Howdy, Stranger!
It looks like you're new here. If you want to get involved, click one of these buttons!
Categories
In this Discussion
CURRENT GLOBAL VISITORS (CLICK GLOBE)
D-FOX: PLEASE CONTACT US IMMEDIATELY
If you can read this message, please contact us immediately at the following email address:
thecomingcrisis@gmail.com
We'd like to communicate.
The Most Popular Threads This Week
Russia Reveals Secret Nuclear-Armed Drone "Harbor Buster" Sub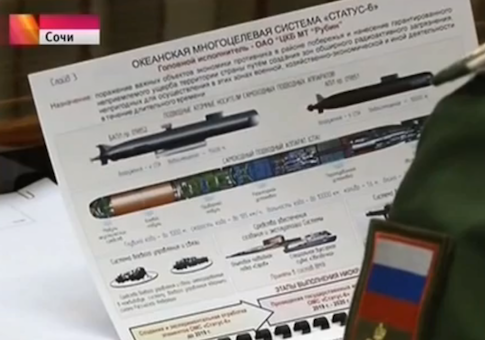 A Russian document shown on state-run television confirmed that Moscow is developing a high-speed drone submarine capable of delivering a nuclear warhead.
The secret weapon was shown on a document during several Tuesday Russian television broadcasts of President Vladimir Putin announcing plans for new strike weapons capable of defeating missile defenses.
Disclosure of the nuclear-tipped, torpedo-shaped weapon was first reported by the Washington Free Beacon and has been dubbed Kanyon by the Pentagon.
A Kremlin spokesman confirmed Wednesday that the weapon, which Moscow is calling the Status-6 system, was inadvertently disclosed.
"Some secret information did indeed end up in front of the camera lenses, so it was later deleted," Russian spokesman Dmitri Peskov was quoted by Interfax as saying. "We hope this won't happen again."
-------------------
"...
Say, 'GOD is sufficient for me.' In Him the trusters shall trust.
"
(Quran 39:38)