Howdy, Stranger!
It looks like you're new here. If you want to get involved, click one of these buttons!
Categories
In this Discussion
CURRENT GLOBAL VISITORS (CLICK GLOBE)
D-FOX: PLEASE CONTACT US IMMEDIATELY
If you can read this message, please contact us immediately at the following email address:
thecomingcrisis@gmail.com
We'd like to communicate.
The Most Popular Threads This Week
WELCOME TO CRISISFORUMS.ORG!
(1) Please swing by our
"HELP CENTER"
to view our forum rules prior to posting or commenting.
(2) Acknowledge that by commenting or posting, you take full responsibility for the content and message of the information you put forth, which does not necessarily reflect the opinions of this website.
(3) If you ever need assistance, simply contact one of the staff or send us an email and we'll be glad to help.
333 whales per year? Japan fleet sails out for 'scientific' research despite UN ruling
333 whales per year? Japan fleet sails out for 'scientific' research despite UN ruling
Published time: 30 Nov, 2015 21:07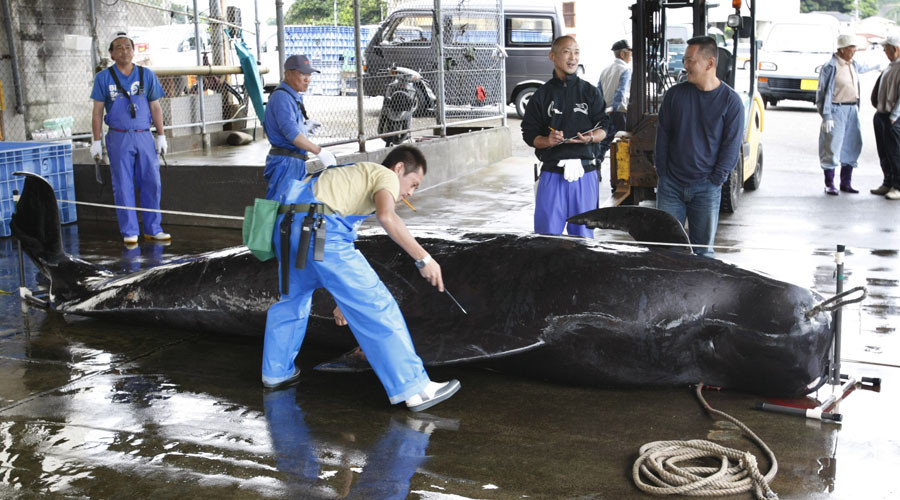 Japan's whaling fleet is going to set sail to conduct what it calls "scientific" research, ignoring the UN court ruling and protest campaigns. Opponents of the practice fear the hundreds of whales killed in process will end up on the food market.
The fleet is due to leave for the Antarctic on Tuesday, December 1, for a three-month hunt. This is will be the first expedition since the International Court of Justice (ICJ) ruled last year that the hunts were not truly scientific.
Claims that Japan's whaling program is "scientific" are utterly bogus, and everyone knows it. #stopwhaling
In a statement published on Monday, Japan's Fisheries Agency said that four ships – a factory ship for processing whaled and three faster vessels – would depart for a "research period." Japan plans to kill as many as 333 minke whales each year over the next twelve years
Japan filed a note to the International Whaling Commission last month, warning that it would resume whaling. Sea Shepherd and other environmental groups have turned to Australia, urging it to put more pressure on Japan.
https://www.rt.com/news/324052-japan-un-whales-antarctic/