Howdy, Stranger!
It looks like you're new here. If you want to get involved, click one of these buttons!
Categories
CURRENT GLOBAL VISITORS (CLICK GLOBE)
D-FOX: PLEASE CONTACT US IMMEDIATELY
If you can read this message, please contact us immediately at the following email address:
thecomingcrisis@gmail.com
We'd like to communicate.
The Most Popular Threads This Week
World on Track to lose two thirds of wild animals by 2020
Living Planet Index shows vertebrate populations are set to decline by 67% on 1970 levels unless urgent action is taken to reduce humanity's impact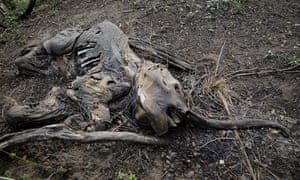 A victim of poachers in Kenya: elephants are among the species most impacted by humans, the WWF report found. Photograph: imageBROKER/REX/Shutterstock
Thursday 27 October 2016 10.53 AEDT Last modified on Thursday 27 October 2016 20.46 AEDT
The number of wild animals living on Earth is set to fall by two-thirds by 2020, according to a
new report
, part of a mass extinction that is destroying the natural world upon which humanity depends.
The analysis, the most comprehensive to date, indicates that animal populations plummeted by 58% between 1970 and 2012, with losses on track to reach 67% by 2020. Researchers from WWF and the Zoological Society of London compiled the report from scientific data and found that the destruction of wild habitats, hunting and pollution were to blame.

The creatures being lost range from mountains to forests to rivers and the seas and include well-known endangered species such as elephants and gorillas and lesser known creatures such as vultures and salamanders.
https://www.theguardian.com/environment/2016/oct/27/world-on-track-to-lose-two-thirds-of-wild-animals-by-2020-major-report-warns