Howdy, Stranger!
It looks like you're new here. If you want to get involved, click one of these buttons!
Categories
In this Discussion
CURRENT GLOBAL VISITORS (CLICK GLOBE)
D-FOX: PLEASE CONTACT US IMMEDIATELY
If you can read this message, please contact us immediately at the following email address:
thecomingcrisis@gmail.com
We'd like to communicate.
The Most Popular Threads This Week
'Fishpocalypse': Drone footage shows thousands of dead bunker fish floating in Hamptons canal
Tens of thousands of dead fish have been found floating in a canal on New York's Long Island this week and authorities are investigating what caused it.
Countless bunker fish were seen floating near the water's edge on the Shinnecock Canal in Hampton Bays on Monday morning in what scientists are calling unprecedented. Locals have branded it the 'fishpocalypse'.
Drone footage taken by Hampton Watercraft shows the unbelievable extent of the stranded fish, all stacked on top of each other on the surface of the water, with the canal looking like it is covered in ice from afar.
Regional Department of Environmental Conservation spokesman Bill Fonda told Newsday that the die-off was most likely caused by suffocation and not chemicals or pollutants and urged concerned locals not to worry.
http://www.dailymail.co.uk/news/article-3950922/Fishpocalypse-Drone-footage-shows-thousands-dead-bunker-fish-floating-Hamptons-canal-confounding-scientists-worrying-locals.html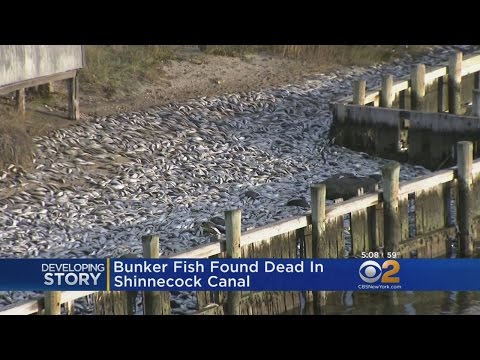 "Before you embark on a Journey of Revenge, Dig Two Graves" Confucius (504 bc)
"The darkest places in hell are reserved for those who maintain their neutrality in times of moral crisis."
"If angry, count to ten. This will give you time to find a weapon." - Will Spencer