Howdy, Stranger!
It looks like you're new here. If you want to get involved, click one of these buttons!
Categories
In this Discussion
CURRENT GLOBAL VISITORS (CLICK GLOBE)
D-FOX: PLEASE CONTACT US IMMEDIATELY
If you can read this message, please contact us immediately at the following email address:
thecomingcrisis@gmail.com
We'd like to communicate.
The Most Popular Threads This Week
WELCOME TO CRISISFORUMS.ORG!
(1) Please swing by our
"HELP CENTER"
to view our forum rules prior to posting or commenting.
(2) Acknowledge that by commenting or posting, you take full responsibility for the content and message of the information you put forth, which does not necessarily reflect the opinions of this website.
(3) If you ever need assistance, simply contact one of the staff or send us an email and we'll be glad to help.
French Town Commanded to Take Down Virgin Mary Statue Under National Religious Symbol Ban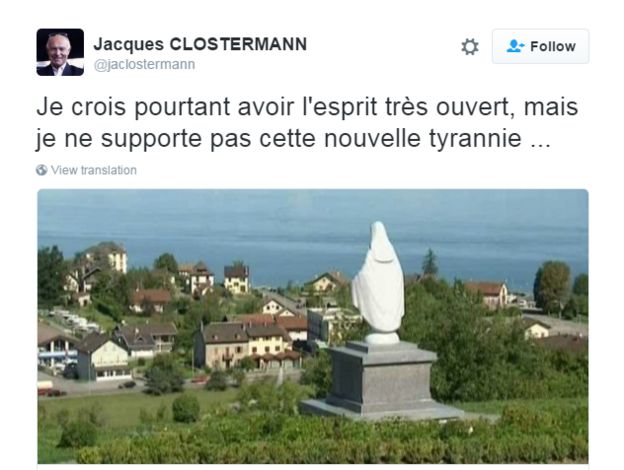 A French town has been told it must take down its statue of the Virgin Mary to comply with a national ban on religious symbols in public spaces, the town's mayor said on Saturday.
A court has given the town of Publier, in eastern France, three months to remove the work.
If it fails to do so, it will be fined €100 (£80; $105) a day.
Mayor Gaston Lacroix said he will try to relocate the marble statue on private land
The image of the mother of Jesus has been standing on the shores of Lake Geneva since 2011.
It has been the subject of local controversy for some years after it was paid for with municipal funds.
The decision to remove the statue has been criticised on social media, with some wondering whether freedom of expression had been curbed.
http://www.bbc.com/news/world-europe-38196238