Howdy, Stranger!
It looks like you're new here. If you want to get involved, click one of these buttons!
Categories
CURRENT GLOBAL VISITORS (CLICK GLOBE)
D-FOX: PLEASE CONTACT US IMMEDIATELY
If you can read this message, please contact us immediately at the following email address:
thecomingcrisis@gmail.com
We'd like to communicate.
The Most Popular Threads This Week
WELCOME TO CRISISFORUMS.ORG!
(1) Please swing by our
"HELP CENTER"
to view our forum rules prior to posting or commenting.
(2) Acknowledge that by commenting or posting, you take full responsibility for the content and message of the information you put forth, which does not necessarily reflect the opinions of this website.
(3) If you ever need assistance, simply contact one of the staff or send us an email and we'll be glad to help.
Donald Trump rooster statue takes China by storm
Donald Trump rooster statue takes China by storm
By Serena Dong, CNN

Updated 0931 GMT (1731 HKT) December 28, 2016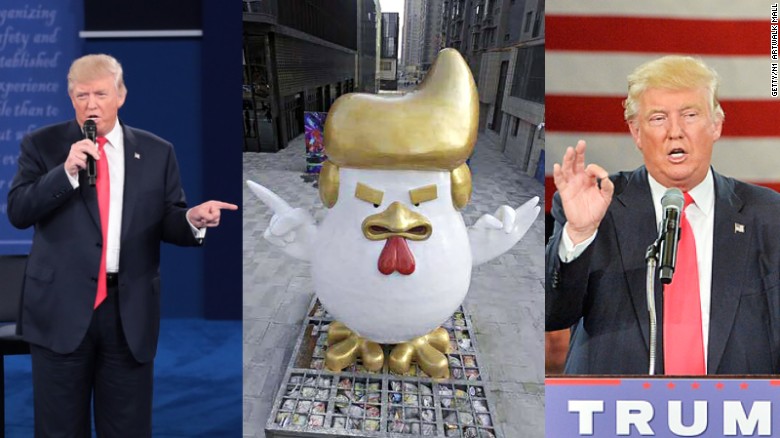 Beijing (CNN)What do you get when you cross the year of the rooster with the year of Trump?
A "yuge" statue.
A giant rooster sculpture, sporting the President-elect's signature hairdo and hand gestures, has been erected outside a shopping mall in Taiyuan, in China's northern Shanxi Province.
The sculpture was commissioned by the company that owns the mall and will be its mascot, Cao Mingliang, the deputy director of planning department from N1 ArtWalk Mall, told CNN.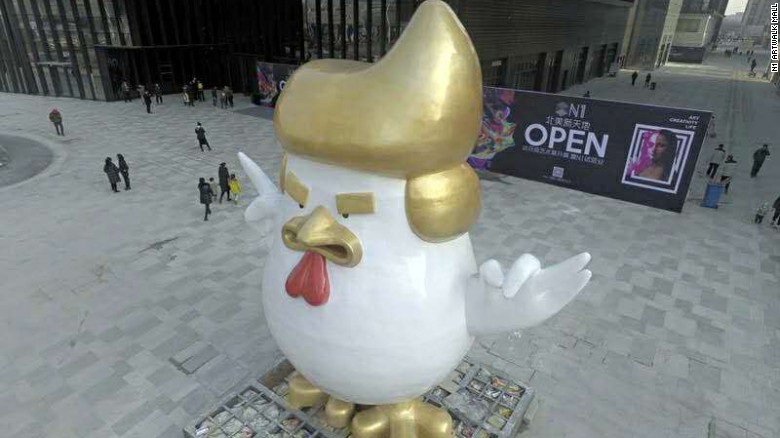 A giant rooster figure, sporting a Donald Trump hairstyle, has popped up outside a shopping mall in downtown Taiyuan, north China's Shanxi Province.
Cao said a series of products and smaller replicas will be available for sale in the future, though some are already being sold on Taobao, the Chinese e-commerce giant owned by Alibaba.
Wei Qing, whose Shenghe Yangtai Business is selling replica roosters, told CNN he thought sculpture was hilarious.
"I think the rooster is very cute and funny, the hairstyle and eyebrows look very much like Donald Trump. I'm sure it will attract a lot of customers," he said.
At least four stores are selling the Trump rooster, with prices starting from $57 to a whopping $1,739 for a statue that's 32 feet tall.
This isn't even the first avian doppleganger Trump has had in China this year.
State-run People's Daily tweeted out an image of a bird sporting a similar hairdo to the President-elect last month.
Meet the pheasant-elect: Bird sporting 'Donald Trump's hairstyle' soars to internet fame in China https://t.co/qYUbMcDYmV pic.twitter.com/VTPlDcaBcp
http://edition.cnn.com/2016/12/28/asia/donald-trump-rooster/index.html