Howdy, Stranger!
It looks like you're new here. If you want to get involved, click one of these buttons!
Categories
In this Discussion
CURRENT GLOBAL VISITORS (CLICK GLOBE)
D-FOX: PLEASE CONTACT US IMMEDIATELY
If you can read this message, please contact us immediately at the following email address:
thecomingcrisis@gmail.com
We'd like to communicate.
The Most Popular Threads This Week
A gaping hole continues to grow in the spillway of America's tallest dam - causing massive erosion
On Tuesday, a huge hole formed in the spillway of California's Oroville DamOfficials say the hole will continue to grow until it hits bedrock Right now, the spillway isn't releasing enough water to keep up with the lake's intake So there's a threat that the lake will overflow at some point on Saturday, engaging an emergency spillway that hasn't been used since the dam was opened in 1968If that happens, officials won't be able to control the water flow, and it can cause even more erosion as water sweeps through vegetation on its way down to the river below
A gaping hole in the spillway for the tallest dam in the United States grew Thursday and California authorities said they expect it will continue eroding as water washes over it but the Oroville Dam and the public are safe.
Earlier this week, chunks of concrete flew off the nearly mile-long spillway, creating a 200-foot-long, 30-foot-deep hole. Engineers don't know what caused the cave-in that is expected to keep growing until it reaches bedrock.
But faced with little choice, the state Department of Water Resources resumed ramping up the outflow from Lake Oroville over the damaged spillway to keep up with all the runoff from torrential rainfall in the Sierra Nevada foothills.
http://www.dailymail.co.uk/news/article-4209546/Nations-tallest-dam-Lake-Oroville-damaged-amid-storms.html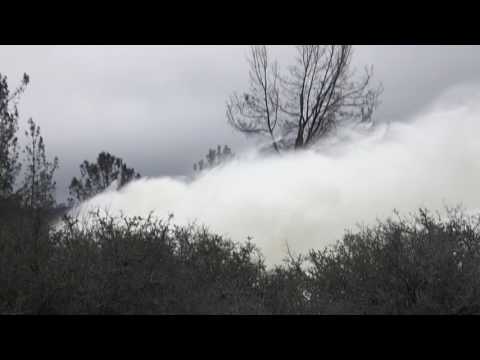 "Before you embark on a Journey of Revenge, Dig Two Graves" Confucius (504 bc)
"The darkest places in hell are reserved for those who maintain their neutrality in times of moral crisis."
"If angry, count to ten. This will give you time to find a weapon." - Will Spencer