Howdy, Stranger!
It looks like you're new here. If you want to get involved, click one of these buttons!
Categories
CURRENT GLOBAL VISITORS (CLICK GLOBE)
D-FOX: PLEASE CONTACT US IMMEDIATELY
If you can read this message, please contact us immediately at the following email address:
thecomingcrisis@gmail.com
We'd like to communicate.
The Most Popular Threads This Week
N. Korean test missile flies 500km, lands in Sea of Japan
North Korea on Sunday launched a missile in the direction of Japan, South Korean and Pentagon officials have said. Although the projectile landed into the sea before reaching Japan's economic zone, it alarmed the military amid Pyongyang's claim of developing an ICBM.
"The flight distance was about 500 kilometres, and South Korea and the United States are conducting a close-up analysis on additional information," South Korea's Office of Joint Chiefs of Staff said in a statement.
"US Strategic Command systems detected and tracked what we assess was a North Korean missile launch at 4:55 p.m. CST...The missile was tracked over North Korea and into the Sea of Japan," the Pentagon said as quoted by Reuters. It added that the launch never posed a threat to the US, calling the projectile "a medium- or intermediate-range ballistic missile."
South Korean military earlier said that the missile "appears not be an ICBM in terms of range," as cited by Yonhap news agency. Kim Jong Un said Pyongyang was preparing to test a new intercontinental ballistic missile in his New Year speech.
The suspected missile type is Hwasong-10, or Musudan intermediate-range ballistic missile, which has a range of 3,000 kilometers.
"Our assessment is that it is part of a show of force in response to the new US administration's hardline position against the North," the military said.
https://www.rt.com/news/377090-north-korea-missile-launch-japan/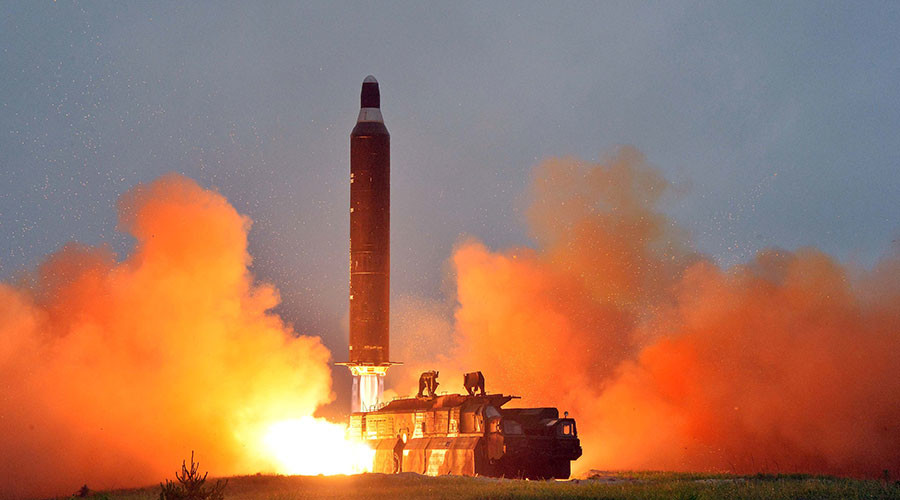 "Before you embark on a Journey of Revenge, Dig Two Graves" Confucius (504 bc)
"The darkest places in hell are reserved for those who maintain their neutrality in times of moral crisis."
"If angry, count to ten. This will give you time to find a weapon." - Will Spencer