Howdy, Stranger!
It looks like you're new here. If you want to get involved, click one of these buttons!
Categories
CURRENT GLOBAL VISITORS (CLICK GLOBE)
D-FOX: PLEASE CONTACT US IMMEDIATELY
If you can read this message, please contact us immediately at the following email address:
thecomingcrisis@gmail.com
We'd like to communicate.
The Most Popular Threads This Week
WELCOME TO CRISISFORUMS.ORG!
(1) Please swing by our
"HELP CENTER"
to view our forum rules prior to posting or commenting.
(2) Acknowledge that by commenting or posting, you take full responsibility for the content and message of the information you put forth, which does not necessarily reflect the opinions of this website.
(3) If you ever need assistance, simply contact one of the staff or send us an email and we'll be glad to help.
NATO, Syria & Ukraine in 'post fake' world: Munich Security Conference highlights & memora
The future of NATO and its relations with Russia amid turbulent US foreign policy, as well as the Syrian and Ukrainian conflicts in an era of Cold War style media hysteria have dominated the three-day Munich Security Conference.


NATO's future & relations with Russia
Russia is ready to work together with NATO, but its expansion has led to an "unprecedented level of tension" in Europe, the Russian FM Sergey Lavrov told the conference. Moscow is open for political dialogue and diplomacy but believes it does not make any sense without military cooperation. NATO, however, has not shown a readiness for such cooperation.
The US seemingly tried to reassure its allies, alarmed by Donald Trump's campaign statements on the alliance being "obsolete." America "strongly supports NATO" and is fully committed to this transatlantic alliance, the US Vice President Pence said at the conference. "As you keep faith with us, under President Trump we will always keep faith with you," he added, reiterating, the demand, however, that allies to pay their "fair share" of 2 percent of GDP to maintain NATO.

"When even one ally fails to do their part, it undermines all of our ability to come to each other's aid," Pence stated, clearly implying that failure to increase spending was not an option for NATO nations.

https://www.rt.com/news/377903-munich-security-conference-highlights/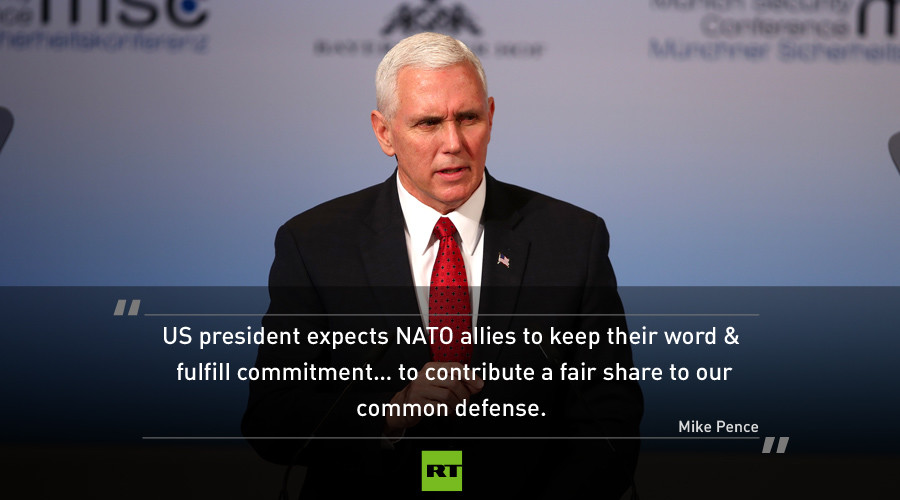 "Before you embark on a Journey of Revenge, Dig Two Graves" Confucius (504 bc)
"The darkest places in hell are reserved for those who maintain their neutrality in times of moral crisis."
"If angry, count to ten. This will give you time to find a weapon." - Will Spencer