Howdy, Stranger!
It looks like you're new here. If you want to get involved, click one of these buttons!
Categories
In this Discussion
CURRENT GLOBAL VISITORS (CLICK GLOBE)
D-FOX: PLEASE CONTACT US IMMEDIATELY
If you can read this message, please contact us immediately at the following email address:
thecomingcrisis@gmail.com
We'd like to communicate.
The Most Popular Threads This Week
Marine Le Pen refuses to wear headscarf for meeting with Grand Mufti
France's far-right candidate refuses to go into a meeting with Lebanon's top cleric for Sunni Muslims after she is handed a veil.


France's far-right presidential candidate Marine Le Pen has cancelled a meeting with Lebanon's Grand Mufti after refusing to wear a headscarf.
The meeting was part of Ms Le Pen's three-day visit to Lebanon, where she has been meeting senior officials to bolster her foreign policy credentials.
She was scheduled to meet Grand Sunni Muslim Mufti Sheikh Abdel-Latif Derian on Tuesday morning.
But shortly after she arrived at his office, one of his aides tried to give her a headscarf to put on - and she refused.
Ms Le Pen said she had met in the past with the Grand Mufti of Egypt's Al-Azhar, one of the world's top Sunni clerics, without wearing a veil.
She was heard telling an official: "I met the Grand Mufti of Al Azhar, he didn't ask for this. So it's a no.

http://news.sky.com/story/marine-le-pen-refuses-to-wear-headscarf-for-meeting-with-grand-mufti-10776202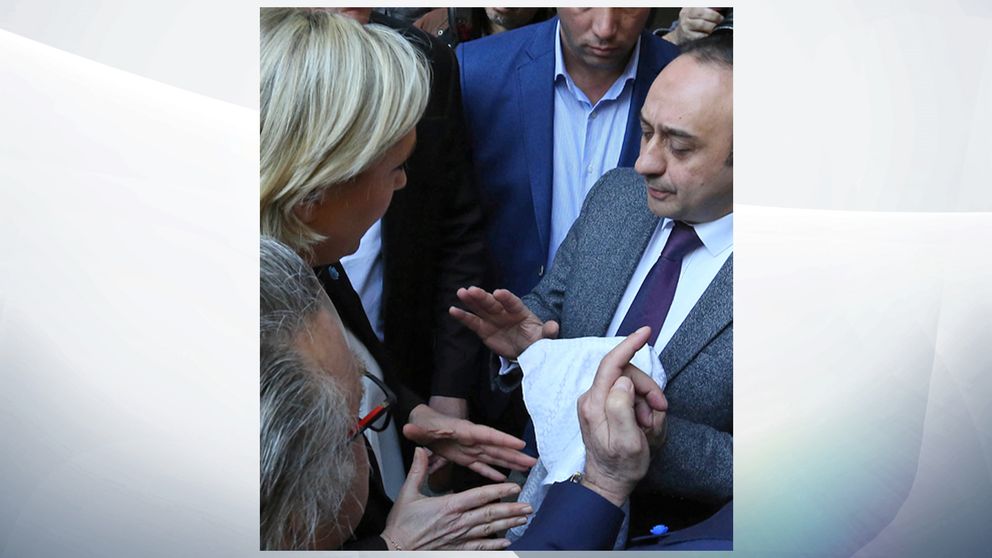 "Before you embark on a Journey of Revenge, Dig Two Graves" Confucius (504 bc)
"The darkest places in hell are reserved for those who maintain their neutrality in times of moral crisis."
"If angry, count to ten. This will give you time to find a weapon." - Will Spencer