Howdy, Stranger!
It looks like you're new here. If you want to get involved, click one of these buttons!
Categories
CURRENT GLOBAL VISITORS (CLICK GLOBE)
D-FOX: PLEASE CONTACT US IMMEDIATELY
If you can read this message, please contact us immediately at the following email address:
thecomingcrisis@gmail.com
We'd like to communicate.
The Most Popular Threads This Week
WELCOME TO CRISISFORUMS.ORG!
(1) Please swing by our
"HELP CENTER"
to view our forum rules prior to posting or commenting.
(2) Acknowledge that by commenting or posting, you take full responsibility for the content and message of the information you put forth, which does not necessarily reflect the opinions of this website.
(3) If you ever need assistance, simply contact one of the staff or send us an email and we'll be glad to help.
FRENCH-TOUGH: "Goanna girl" wrestles lizard out of coffee shop after attempted frappuccino order
French waitress drags huge lizard out of Australian restaurant
This plucky waitress is evidently not scared of trespassing lizards so big they are mistaken for dogs.
25-year-old French waitress Samia Lila has made international headlines after grabbing the huge reptile by the tail and swinging it out of the restaurant in New South Wales.
She has since been dubbed "goanna girl" - the reptile is thought to be a goanna - and has been widely commended for her bravery.
http://www.telegraph.co.uk/news/2017/02/21/french-waitress-drags-huge-lizard-australian-restaurant/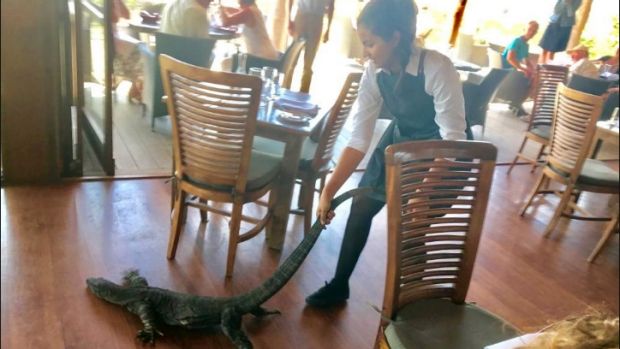 -------------------
"...
Say, 'GOD is sufficient for me.' In Him the trusters shall trust.
"
(Quran 39:38)