Howdy, Stranger!
It looks like you're new here. If you want to get involved, click one of these buttons!
Categories
In this Discussion
CURRENT GLOBAL VISITORS (CLICK GLOBE)
D-FOX: PLEASE CONTACT US IMMEDIATELY
If you can read this message, please contact us immediately at the following email address:
thecomingcrisis@gmail.com
We'd like to communicate.
The Most Popular Threads This Week
Scientists find three new planets where life could have evolved
Scientists have discovered at least three new planets in our galaxy that could have allowed life to evolve.
The Earth-sized worlds lie in the "Goldilocks zone" of their sun, where temperatures are not too hot or cold, and are thought to be capable of having oceans of water.
They are in a group of at least seven planets orbiting a dwarf star called Trappist-1, in a newly discovered solar system 39 light years from us. A light year is the distance light travels in a year.
Researchers believe no other known star system contains such a large number of Earth-sized and probably rocky planets.
Trappist-1 lies in the Aquarius constellation and has just under a tenth of the mass of our Sun.
The research, led by NASA and its orbiting Spitzer telescope, was supported by, among others, a robotic telescope operated by Liverpool John Moores University (JMU).
The telescope, which is located in the Canary Islands off the west coast of Africa, helped detect the planets as they passed in front of their star.
http://news.sky.com/story/scientists-find-three-new-planets-where-life-could-have-evolved-10777513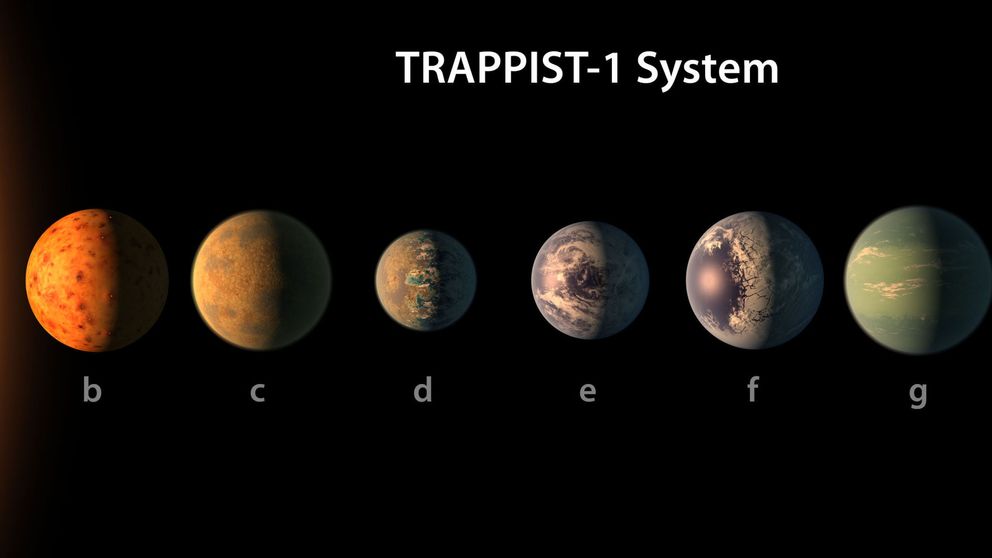 "Before you embark on a Journey of Revenge, Dig Two Graves" Confucius (504 bc)
"The darkest places in hell are reserved for those who maintain their neutrality in times of moral crisis."
"If angry, count to ten. This will give you time to find a weapon." - Will Spencer