Howdy, Stranger!
It looks like you're new here. If you want to get involved, click one of these buttons!
CURRENT GLOBAL VISITORS (CLICK GLOBE)
D-FOX: PLEASE CONTACT US IMMEDIATELY
If you can read this message, please contact us immediately at the following email address:
thecomingcrisis@gmail.com
We'd like to communicate.
The Most Popular Threads This Week
WELCOME TO CRISISFORUMS.ORG!
(1) Please swing by our
"HELP CENTER"
to view our forum rules prior to commenting.
(2) Acknowledge that by commenting or posting, you take full responsibility for the content and message of the information you put forth, which do not necessarily reflect the opinions of this website.
(3) If you would like to post your own discussion threads, just contact one of the staff so we can verify you as a human.
"UFO sightings are at an all-time high"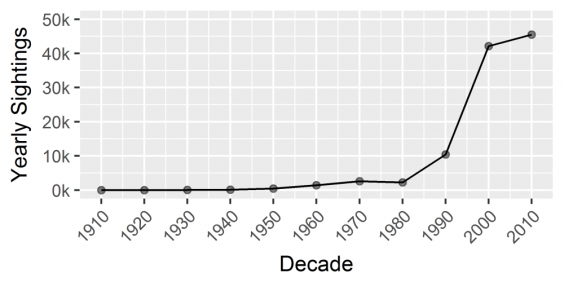 UFO sightings have reached an all-time high, according to statistician Sam Monfort.
Monfort collated sightings recorded by the National UFO Reporting Centre, a US organisation that records sightings worldwide, from the beginning of the 20th century.
And there's been a bit of an upward trend.
Interestingly though, Sam has observed that spotting of flying saucers have been on the downturn, despite the rise in sightings over all.
Maybe extraterrestrials have just upgraded?
In terms of geography, Sam says that the US seems to be the most prone to UFO sightings all year round.
The States actually report 300 times as many sightings than the the global average, according to his calculations.

https://www.indy100.com/article/ufo-sightings-extraterrestrials-aliens-space-america-x-files-7594936
-------------------
"...
Say, 'GOD is sufficient for me.' In Him the trusters shall trust.
"
(Quran 39:38)