Howdy, Stranger!
It looks like you're new here. If you want to get involved, click one of these buttons!
Categories
In this Discussion
CURRENT GLOBAL VISITORS (CLICK GLOBE)
D-FOX: PLEASE CONTACT US IMMEDIATELY
If you can read this message, please contact us immediately at the following email address:
thecomingcrisis@gmail.com
We'd like to communicate.
The Most Popular Threads This Week
WELCOME TO CRISISFORUMS.ORG!
(1) Please swing by our
"HELP CENTER"
to view our forum rules prior to posting or commenting.
(2) Acknowledge that by commenting or posting, you take full responsibility for the content and message of the information you put forth, which does not necessarily reflect the opinions of this website.
(3) If you ever need assistance, simply contact one of the staff or send us an email and we'll be glad to help.
Golfer Rory McIlroy Labelled a "fascist" for .. wait for it!.. PLAYING A ROUND OF GOLF WITH TRUMP!
The golf star says he faced a social media backlash for accepting an invitation to play a round of golf with Mr Trump in Florida.


Rory McIlroy has defended his decision to play golf with Donald Trump after a flood of criticism and abuse, saying it "was, quite simply, a round of golf".
The golf star accepted an offer to join the US president on the fairways at Trump International in Florida last weekend.
At the time McIlroy was clearly impressed by Mr Trump's performance. He said: "He [Trump] probably shot around 80. He's a decent player for a guy in his 70s."
However, his actions prompted a backlash on social media, with some labelling him a "bigot" and a "fascist", the 27-year-old Northern Irishman said.
In a post on his Twitter account McIlroy hit back, saying: "I don't agree with everything my friends or family say or do, but I still play golf with them. Last week I was invited to play golf with the President of the United States. Whether you respect the person who holds that position or not, you respect the office that he holds.

"That wasn't an endorsement or a political statement of any kind. it was, quite simply, a round of golf.

http://news.sky.com/story/rory-mcilroy-says-game-of-golf-with-donald-trump-not-an-endorsement-10780825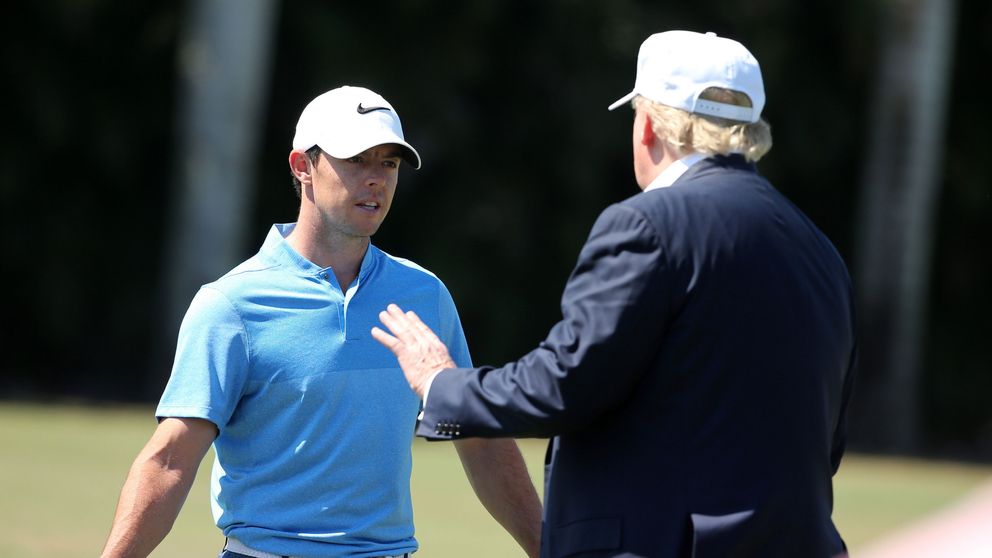 "Before you embark on a Journey of Revenge, Dig Two Graves" Confucius (504 bc)
"The darkest places in hell are reserved for those who maintain their neutrality in times of moral crisis."
"If angry, count to ten. This will give you time to find a weapon." - Will Spencer