Howdy, Stranger!
It looks like you're new here. If you want to get involved, click one of these buttons!
Categories
In this Discussion
CURRENT GLOBAL VISITORS (CLICK GLOBE)
D-FOX: PLEASE CONTACT US IMMEDIATELY
If you can read this message, please contact us immediately at the following email address:
thecomingcrisis@gmail.com
We'd like to communicate.
The Most Popular Threads This Week
The Hitler was hailed the 'greatest living German' - by an English Liberal Prime Minister
Grainy footage of former PM David Lloyd George's meeting with Nazi leader in 1936 emerge 80 years later
Film shows the politician and his entourage meeting the Nazi ruler in GermanyThe pair ate dinner together before Mr Lloyd George laid a memorial wreathLloyd George later described the Nazi leader as a 'remarkable personality'Video, owned by a British historian, is now being sold at auction for £1,200
This remarkable footage captures the day David Lloyd George cosied up to Hitler during a pre-war trip to Germany before hailing him as 'the greatest living German'.
The grainy black and white film shows the politician and his entourage travelling around Germany in 1936, where they dined with the Nazi ruler and rode together on new autobahns.
The 16mm propaganda film also captures Lloyd George schmoozing and laughing with the dictator as he tours a Bavarian town.
In another clip, the British PM lays a wreath at a war memorial in Munich, while the flags of the Nazi Party and the UK hang side by side in the background.
http://www.dailymail.co.uk/news/article-4263804/Hitler-hailed-greatest-living-German-English-PM.html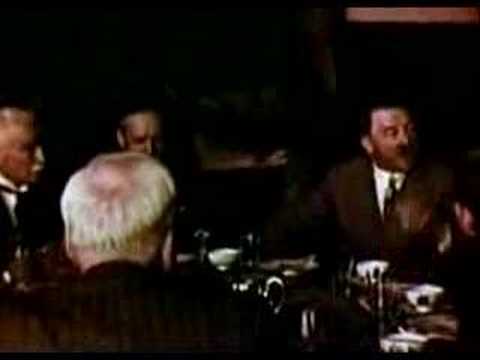 "Before you embark on a Journey of Revenge, Dig Two Graves" Confucius (504 bc)
"The darkest places in hell are reserved for those who maintain their neutrality in times of moral crisis."
"If angry, count to ten. This will give you time to find a weapon." - Will Spencer