Howdy, Stranger!
It looks like you're new here. If you want to get involved, click one of these buttons!
Categories
In this Discussion
CURRENT GLOBAL VISITORS (CLICK GLOBE)
D-FOX: PLEASE CONTACT US IMMEDIATELY
If you can read this message, please contact us immediately at the following email address:
thecomingcrisis@gmail.com
We'd like to communicate.
The Most Popular Threads This Week
US deploys Black Hawk choppers in Latvia to protect 'sovereignty & bright future'
Five UH-60 Black Hawk helicopters and nearly 50 crew members have arrived in the Latvian capital of Riga as part of NATO's Atlantic Resolve operation which sees an enhancement of American forces across the Baltic States.


The helicopters were unloaded from a transport plane on Wednesday and welcomed by officials including US Ambassador to Latvia Nancy Bikoff Pettit.

"US Air Force transport aircraft with UH-60 Black Hawk helicopters and military units Phoenix 10th Air Brigade of the US Army arrived at Riga airport," the Latvian Defense Ministry reported. The ministry said earlier that the new arrivals will replace the existing unit of Black Hawk helicopters deployed at the Lielvarde Air Base in central Latvia.
"We are thrilled to welcome so many excellent American soldiers, who will serve as members of the continuing US aviation presence deployed to NATO's eastern flank in support of Operation Atlantic Resolve," Ambassador Pettit said at Riga International Airport.
https://www.rt.com/news/379127-us-black-hawk-helicopters-latvia/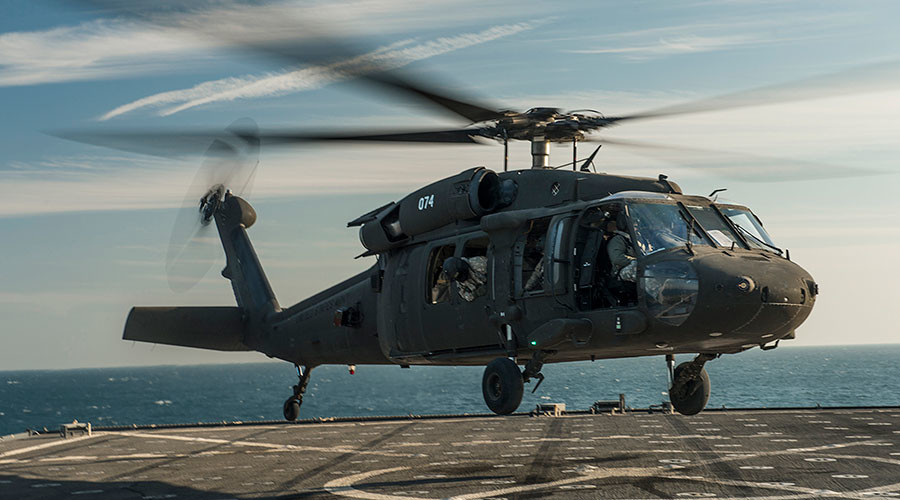 "Before you embark on a Journey of Revenge, Dig Two Graves" Confucius (504 bc)
"The darkest places in hell are reserved for those who maintain their neutrality in times of moral crisis."
"If angry, count to ten. This will give you time to find a weapon." - Will Spencer