Howdy, Stranger!
It looks like you're new here. If you want to get involved, click one of these buttons!
Categories
In this Discussion
CURRENT GLOBAL VISITORS (CLICK GLOBE)
D-FOX: PLEASE CONTACT US IMMEDIATELY
If you can read this message, please contact us immediately at the following email address:
thecomingcrisis@gmail.com
We'd like to communicate.
The Most Popular Threads This Week
Trump issues new travel ban for 6 Muslim-majority countries, excludes Iraq
President Donald Trump has issued a new executive order, temporarily blocking travel to the US for residents of six Muslim-majority countries pending revision of visa procedures. The previous travel ban, issued in January, was blocked in federal courts.
The order halts the issuance of new US visas to citizens of Iran, Libya, Syria, Somalia, Sudan and Yemen for the next 90 days.
Read more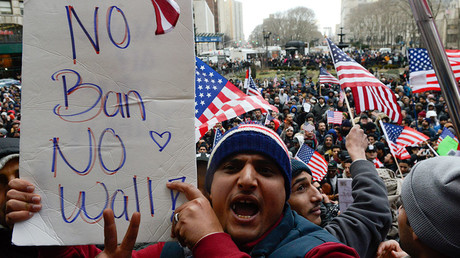 Iraq, which was included in the January ban, was left off the list this time after the government in Baghdad agreed to increase cooperation with the US on background checks for its citizens applying for visas, AP reported.
https://www.rt.com/usa/379617-trump-executive-order-travel-ban/

Ephesians 6:12 For we wrestle not against flesh and blood, but against principalities, against powers, against the rulers of the darkness of this world, against spiritual wickedness in high places.