Howdy, Stranger!
It looks like you're new here. If you want to get involved, click one of these buttons!
Categories
In this Discussion
CURRENT GLOBAL VISITORS (CLICK GLOBE)
D-FOX: PLEASE CONTACT US IMMEDIATELY
If you can read this message, please contact us immediately at the following email address:
thecomingcrisis@gmail.com
We'd like to communicate.
The Most Popular Threads This Week
WELCOME TO CRISISFORUMS.ORG!
(1) Please swing by our
"HELP CENTER"
to view our forum rules prior to posting or commenting.
(2) Acknowledge that by commenting or posting, you take full responsibility for the content and message of the information you put forth, which does not necessarily reflect the opinions of this website.
(3) If you ever need assistance, simply contact one of the staff or send us an email and we'll be glad to help.
Over 900 coins removed from Thai turtle's stomach
Thai surgeons have removed 915 coins from a sea turtle's stomach during an emergency operation.
The 25-year-old female turtle, affectionately named 'Bank', spent years eating coins that had been thrown into a pond in Bangkok by tourists seeking good luck.
The 'penny diet', however, formed a 5kg stack in the turtle's stomach that cracked her shell, causing a life-threatening infection.

https://www.rt.com/viral/379638-turtle-900-coins-removed/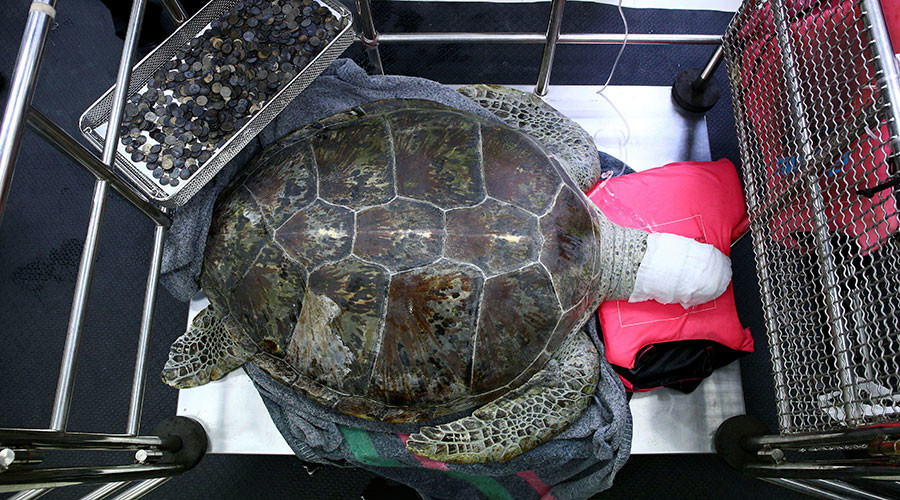 Ephesians 6:12 For we wrestle not against flesh and blood, but against principalities, against powers, against the rulers of the darkness of this world, against spiritual wickedness in high places.