BREXIT negotiator Guy Verhofstadt today launched an extraordinary and impassioned attack on the "disease of Europe" as he warned the bloc will not survive unless it pushes through major federalisation.
The fired up Belgian politician swore at one point as he tore into the Brussels status quo, blasting key policies like the Schengen zone and the euro currency as unfinished.
In an epic rant at a summit of European mayors in the Belgian capital he rattled off a fierce defence of EU unity but said "nationalist" thinking at member state level was holding the project back.
He also told the assembled politicians that cities were best place to "fight populism" because of their open societies and large ethnic minority populations.
Mr Verhofstadt made the remarks after EU chief Jean-Claude Juncker mapped out five "pathways" the bloc can take after Brexit, the most federalist of which is named after the lifelong europhile.
The ex Belgian prime minister warned that the entire European project is facing a "crucial year" in 2017 with elections set to take place in the Netherlands, France and Germany.
And in an astonishing attack he said ordinary people who criticised the EU for not working were right because it had failed them on migration, terror and financial regulation.
He roared: ""We have to stop what I call the disease of Europe, which is we start with a fantastic policy.
"We want a single currency, then after a few years we say 'oh sh*t' we don't have the necessary tools and instruments to keep it alive and to keep it healthy.
"Or we want freedom of movement inside the union, but don't talk about the European Border and Coast Guard because that we don't want."
http://www.express.co.uk/news/politics/776068/European-Union-EU-Brexit-negotiator-Guy-Verhofstadt-destroys-Brussels-epic-rant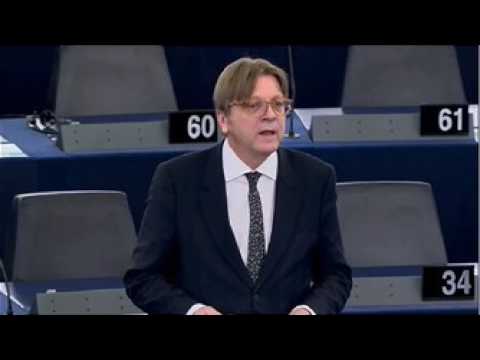 "Before you embark on a Journey of Revenge, Dig Two Graves" Confucius (504 bc)
"The darkest places in hell are reserved for those who maintain their neutrality in times of moral crisis."
"If angry, count to ten. This will give you time to find a weapon." - Will Spencer