Howdy, Stranger!
It looks like you're new here. If you want to get involved, click one of these buttons!
Categories
CURRENT GLOBAL VISITORS (CLICK GLOBE)
D-FOX: PLEASE CONTACT US IMMEDIATELY
If you can read this message, please contact us immediately at the following email address:
thecomingcrisis@gmail.com
We'd like to communicate.
The Most Popular Threads This Week
Article 50 'could be triggered on Tuesday' if Brexit bill passes
Article 50 'could be triggered on Tuesday' if Brexit bill passes
from UK Guardian
Government sources say prime minister may quickly trigger process for leaving EU if legislation is voted for unamended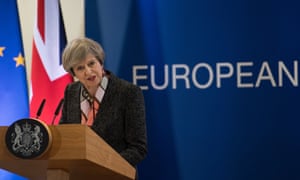 Theresa May speaking at the EU summit in Brussels. Photograph: Carl Court/Getty Images
Heather Stewart Political editor
Saturday 11 March 2017 07.43 AEDT Last modified on Saturday 11 March 2017 11.37 AEDT
Theresa May could trigger article 50, the formal process for leaving the European Union, as early as Tuesday if the Brexit bill passes late on Monday, government sources say.
The legislation, which passed through the House of Commons unamended, is due to be debated by MPs on Monday. They will have to decide whether to accept a pair of amendments added by peers – on the rights of European Union citizens and granting parliament a meaningful vote at the end of the process.
Rebel Conservative MPs have urged the Brexit secretary, David Davis, to give firm promises on both issues when he addresses the Commons.

Brexit is about to get real. Yet we are nowhere near ready for it | Jonathan Freedland
Anna Soubry, who has been one of the most outspoken rebels, said she was keen to be reassured that MPs would be given a vote in the event that the government is unable to secure a deal in the two-year negotiating period.
"It's completely unacceptable that in the event of no deal, the people of this country, or their elected representatives, their MPs, would have no say on what happens next," she said.
https://www.theguardian.com/politics/2017/mar/10/article-50-could-triggered-tuesday-brexit-bill-passes