Howdy, Stranger!
It looks like you're new here. If you want to get involved, click one of these buttons!
Categories
In this Discussion
CURRENT GLOBAL VISITORS (CLICK GLOBE)
D-FOX: PLEASE CONTACT US IMMEDIATELY
If you can read this message, please contact us immediately at the following email address:
thecomingcrisis@gmail.com
We'd like to communicate.
The Most Popular Threads This Week
Has Ed Sheeran killed the charts?
Tuning into the official charts this week, hoping for a mix of what's trending, we find ourselves listening to only one album.


Three years after acknowledging the age of streaming, the Official Charts are again in dire straits - all thanks to Ed Sheeran.
Let's pretend, for the sake of the argument, that music charts are still our main source of knowledge into what's new, what's hot and what's not.
The noughties never came, Napster never happened and we're all still desperate to know all the young artists registering their songs in the UK's Official Singles Chart.
If that were the case, this week, the whole country would be listening to Ed Sheeran's new album on repeat - and virtually nothing else.
All of Divide's 16 tracks are featured, in an unprecedented way, in the Official Top 20 of the singles chart. The entire top 10 (except, randomly, number 7) are from the album.
It is not just singles either. All three of Sheeran's albums feature in the Top 5 of the album chart.
"Wow, what a phenomenal week," young Ed told Official Charts when confronted with the news.
"To every person who's bought the album - thank you," he added.
http://news.sky.com/story/has-ed-sheeran-killed-the-charts-10800420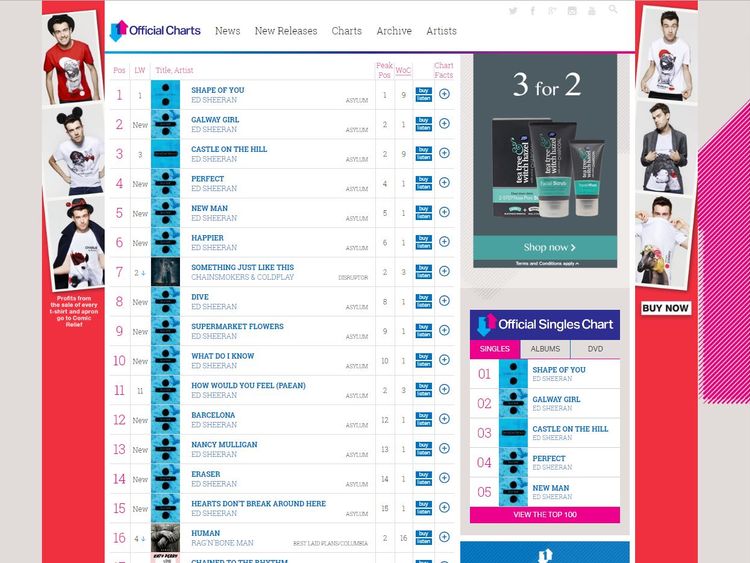 "Before you embark on a Journey of Revenge, Dig Two Graves" Confucius (504 bc)
"The darkest places in hell are reserved for those who maintain their neutrality in times of moral crisis."
"If angry, count to ten. This will give you time to find a weapon." - Will Spencer