Howdy, Stranger!
It looks like you're new here. If you want to get involved, click one of these buttons!
Categories
In this Discussion
CURRENT GLOBAL VISITORS (CLICK GLOBE)
D-FOX: PLEASE CONTACT US IMMEDIATELY
If you can read this message, please contact us immediately at the following email address:
thecomingcrisis@gmail.com
We'd like to communicate.
The Most Popular Threads This Week
WELCOME TO CRISISFORUMS.ORG!
(1) Please swing by our
"HELP CENTER"
to view our forum rules prior to posting or commenting.
(2) Acknowledge that by commenting or posting, you take full responsibility for the content and message of the information you put forth, which does not necessarily reflect the opinions of this website.
(3) If you ever need assistance, simply contact one of the staff or send us an email and we'll be glad to help.
Monster Storm Stella to crash into US bringing up to 18in of snow.. I blame Putin!
Forecasters say after the unusually mild winter, the weather will turn treacherous with ice and blizzards expected.


The US is bracing itself for the worst storm of the winter with warnings of record-low temperatures and dangerous travelling conditions.
Almost half the country was caught in an icy blast on Monday after an unusually warm winter.
But forecasters have warned the next few days will get worse with the arrival of Winter Storm Stella which will bring blizzards and heavy snow.
Up to 18 inches of snow has been predicted covering an area from the central Appalachians to New England.
The storm could bring record-low temperatures late on Monday into Tuesday, as well as "blizzard conditions in places, difficult travel and power outages," The National Weather Service has warned.
A blizzard warning was issued for New York, with snow expected to make travel "extremely dangerous," said forecasters.
http://news.sky.com/story/storm-stella-to-crash-into-us-bringing-up-to-18in-of-snow-10800538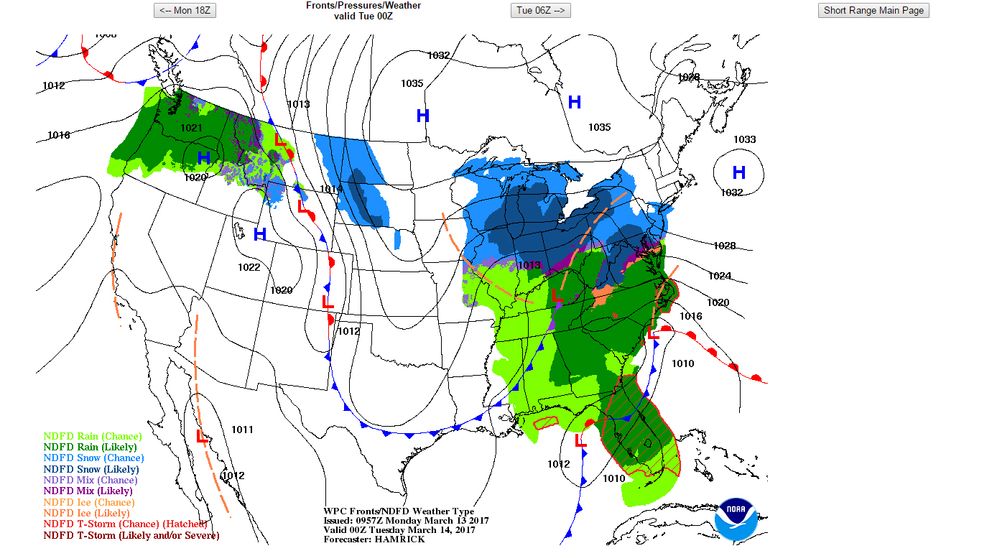 "Before you embark on a Journey of Revenge, Dig Two Graves" Confucius (504 bc)
"The darkest places in hell are reserved for those who maintain their neutrality in times of moral crisis."
"If angry, count to ten. This will give you time to find a weapon." - Will Spencer