Howdy, Stranger!
It looks like you're new here. If you want to get involved, click one of these buttons!
In this Discussion
CURRENT GLOBAL VISITORS (CLICK GLOBE)
D-FOX: PLEASE CONTACT US IMMEDIATELY
If you can read this message, please contact us immediately at the following email address:
thecomingcrisis@gmail.com
We'd like to communicate.
The Most Popular Threads This Week
WELCOME TO CRISISFORUMS.ORG!
(1) Please swing by our
"HELP CENTER"
to view our forum rules prior to commenting.
(2) Acknowledge that by commenting or posting, you take full responsibility for the content and message of the information you put forth, which do not necessarily reflect the opinions of this website.
(3) If you would like to post your own discussion threads, just contact one of the staff so we can verify you as a human.
Some European Truck Drivers Paid So Little They Can Only Afford to Live in Their Trucks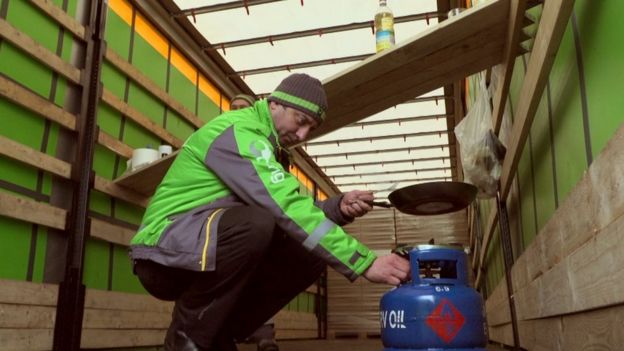 Lorry drivers moving goods in Western Europe for Ikea and other retailers are living out of their cabs for months at a time, a BBC investigation has found.
Some drivers - brought over from poorer countries by lorry firms based in Eastern Europe - say their salary is less than three pounds an hour.
They say they cannot afford to live in the countries where they work. One said he felt "like a prisoner" in his cab.
Ikea said it was "saddened by the testimonies" of the drivers.
The drivers the BBC spoke to were employed by haulage companies based in Eastern Europe, which are paid to transport Ikea goods.
http://www.bbc.com/news/business-39196056

People in this world look at things mistakenly, and think that what they do not understand must be the void. This is not the true void. It is bewilderment.
- Miyamoto Musashi, The Book of Five Rings