Howdy, Stranger!
It looks like you're new here. If you want to get involved, click one of these buttons!
Categories
In this Discussion
CURRENT GLOBAL VISITORS (CLICK GLOBE)
D-FOX: PLEASE CONTACT US IMMEDIATELY
If you can read this message, please contact us immediately at the following email address:
thecomingcrisis@gmail.com
We'd like to communicate.
The Most Popular Threads This Week
McDonald's deletes tweet calling Trump 'a disgusting excuse of a President'
The usually Twitter-friendly US President has not responded after the burger chain's account was apparently hacked.


Burger restaurant chain McDonald's has been forced to delete a tweet posted on its official account which appeared to call Donald Trump "a disgusting excuse of a President".
The company said its Twitter account had been "compromised" and it had launched an investigation into the tweet, which was also pinned to the top of its page.
The original tweet read: "@realdonaldtrump You are actually a disgusting excuse of a President and we would love to have @BarackObama back, also you have tiny hands."
http://news.sky.com/story/mcdonalds-deletes-tweet-calling-trump-a-disgusting-excuse-of-a-president-10803996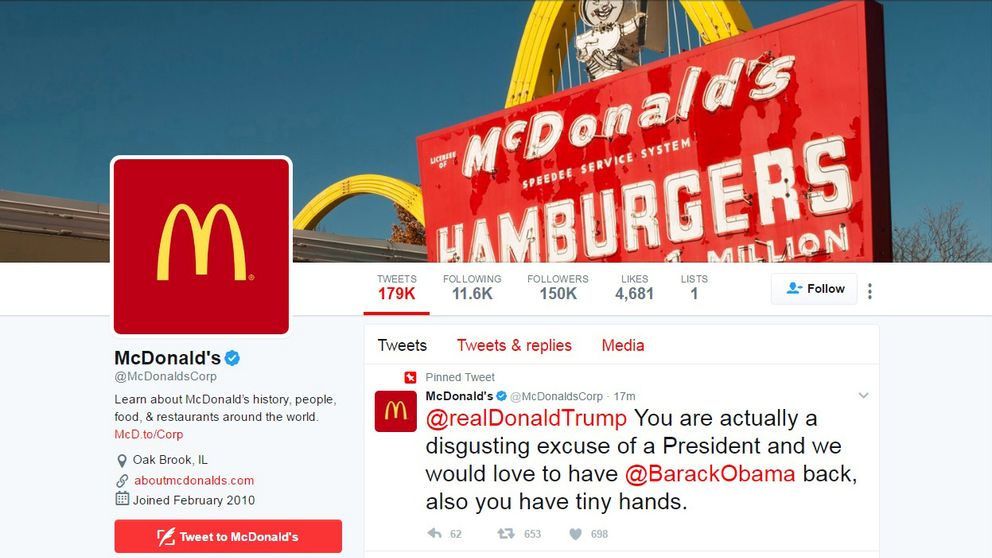 "Before you embark on a Journey of Revenge, Dig Two Graves" Confucius (504 bc)
"The darkest places in hell are reserved for those who maintain their neutrality in times of moral crisis."
"If angry, count to ten. This will give you time to find a weapon." - Will Spencer