Howdy, Stranger!
It looks like you're new here. If you want to get involved, click one of these buttons!
Categories
In this Discussion
CURRENT GLOBAL VISITORS (CLICK GLOBE)
D-FOX: PLEASE CONTACT US IMMEDIATELY
If you can read this message, please contact us immediately at the following email address:
thecomingcrisis@gmail.com
We'd like to communicate.
The Most Popular Threads This Week
WELCOME TO CRISISFORUMS.ORG!
(1) Please swing by our
"HELP CENTER"
to view our forum rules prior to posting or commenting.
(2) Acknowledge that by commenting or posting, you take full responsibility for the content and message of the information you put forth, which does not necessarily reflect the opinions of this website.
(3) If you ever need assistance, simply contact one of the staff or send us an email and we'll be glad to help.
Abandoned Tibetan mastiffs pose threat to snow leopards' primacy By Zhong Nan ( China Daily ) Update
Abandoned Tibetan mastiffs pose threat to snow leopards' primacy
By Zhong Nan ( China Daily )
Updated: 2017-03-18 07:26:51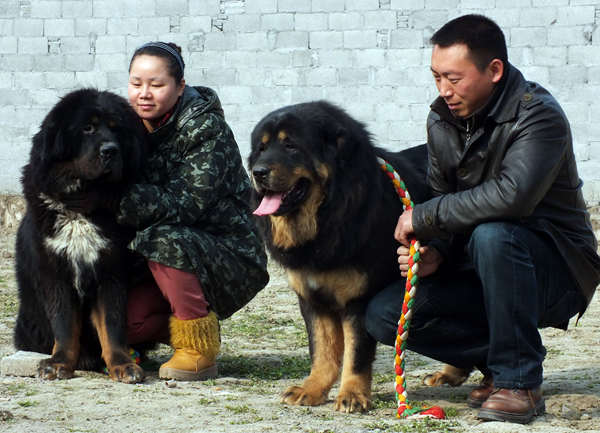 Similar to luxury cars, villas and overseas assets, a Tibetan mastiff was once seen a status symbol for China's nouveau riche. [Photo by Liu Junfeng/China Daily]
Even though the snow leopard in the Sanjiangyuan region, an area of the Tibetan Plateau in Qinghai province, is at the top of food chain, it is now being challenged by the Tibetan mastiff.
Ironically, the dogs are abandoned homegrown mastiffs, and the snow leopards usually give up their prey after being confronted by the dogs.
Such scenes were rare in the past, but with the number of abandoned mastiffs surging between 2012 and 2014, and snow leopard numbers declining as a result human activities, poaching and climate change, these kinds of encounters are now fairly common.
Lion-like mastiffs, native to the Tibet autonomous region and neighboring Qinghai province, were traditionally trained as sheep dogs and watchdogs by herders.
http://www.chinadaily.com.cn/weekend/2017-03/18/content_28600601.htm