Britain's high streets under strain as 15 shops close every day
Traditional retailers replaced by cafes and discount stores, with fashion shops badly hit and experts predicting worse to come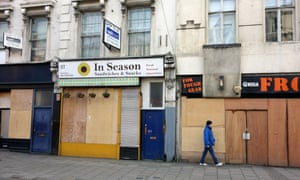 Retailers are under pressure from a shift in spending from shops to online, and a squeeze on UK household incomes. Photograph: Jeff Blackler/Rex
This article is
5 months old
The Guardian
Tuesday 25 October 2016 10.01 AEDT Last modified on Tuesday 25 October 2016 22.59 AEDT
Tobacconists, estate agents and jewellers are taking over high streets across Britain as the number of shops in the country falls at its fastest rate for four years.
There were 15 shop closures a day across the UK in the first half of 2016 and the number of new openings has fallen to the lowest level for five years, according to a report that highlights the pressure on the retail sector.
Fashion shops are struggling, with 206 closing in the first half of the year and only 119 opening, leading to a net decline of 87. In contrast, tobacconists increased by a net of 28, with 60 openings and 32 closures, while estate agents added 26 sites and jewellers 24.
The period covered by the report, which was produced by accountancy firm PwC and the Local Data Company, includes the collapse of BHS into administration. However, the last 22 of BHS's 164 shops did not close until the end of August.
Matthew Hopkinson, the director of the Local Data Company, said: "The spaces left by the traditional occupants of our high streets are being increasingly filled by health care operators, food and beverage operators and the ongoing rise of the discounters."

Last week, in a further blow to the high street, Gap announced it was pulling its Banana Republic brand out of the UK, which will result in the closure of eight shops. Kantar Worldpanel, the consumer research firm, also warned that fashion sales in Britain were falling at the steepest rate since the financial crisis, with shoppers spending £700m less on clothing, shoes and accessories in the year to 25 September compared with 2015.
High streets across the UK are under pressure from a shift in spending from physical shops to online, a squeeze on household income, and increases in business rates and the national living wage, which has increased costs.

Richard Hyman, a retail analyst, said there were too many shops in Britain. About 64% of retailers in Britain were holding sales last week as they tried to shift unsold stock, according to research conducted by Hyman.
https://www.theguardian.com/business/2016/oct/25/britains-high-streets-under-strain-as-15-shops-close-every-day