Howdy, Stranger!
It looks like you're new here. If you want to get involved, click one of these buttons!
Categories
In this Discussion
CURRENT GLOBAL VISITORS (CLICK GLOBE)
D-FOX: PLEASE CONTACT US IMMEDIATELY
If you can read this message, please contact us immediately at the following email address:
thecomingcrisis@gmail.com
We'd like to communicate.
The Most Popular Threads This Week
Suicide Bombing Kills 22 and Injures 57 in Parachinar, Pakistan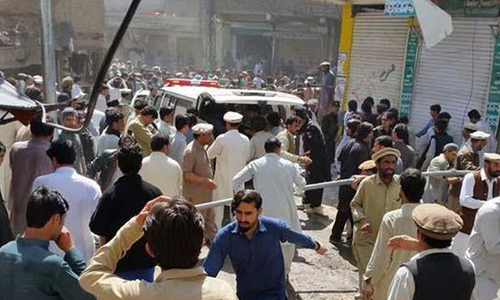 A blast outside an imambargah at a market in Parachinar killed at least 22 people and wounded 50 others, hospital sources told DawnNews on Friday.
"We have 22 dead bodies here at the hospital and 57 injured, including women and children," said Moeen Begum, a surgeon at the hospital.
Ikramullah Khan, the local political agent, confirmed the death toll of the blast that took place this morning in the crowded Noor market.
A parliamentarian from Parachinar, Sajid Hussain, told Reuters it was a suicide attack and was preceded by gunfire. "The attack took place in a busy area and a women's mosque appears to be the target," he said.
A banned outfit Jamat-ul-Ahrar through a video message claimed responsibility for the attack.
https://www.dawn.com/news/1323973/explosion-outside-imambargah-in-parachinar-market-6-killed