Howdy, Stranger!
It looks like you're new here. If you want to get involved, click one of these buttons!
Categories
In this Discussion
CURRENT GLOBAL VISITORS (CLICK GLOBE)
D-FOX: PLEASE CONTACT US IMMEDIATELY
If you can read this message, please contact us immediately at the following email address:
thecomingcrisis@gmail.com
We'd like to communicate.
The Most Popular Threads This Week
WELCOME TO CRISISFORUMS.ORG!
(1) Please swing by our
"HELP CENTER"
to view our forum rules prior to posting or commenting.
(2) Acknowledge that by commenting or posting, you take full responsibility for the content and message of the information you put forth, which does not necessarily reflect the opinions of this website.
(3) If you ever need assistance, simply contact one of the staff or send us an email and we'll be glad to help.
Florida Stranger Helps Recent Amputee Into House, Then Returns Next Day and Builds Him a Ramp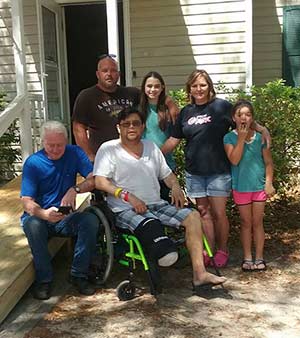 CRESTVIEW, Florida --
After spending days in the hospital, Jennifer Austin was just happy to be heading home after her husband Don underwent a partial leg amputation.
But as they reached the front door, Don quickly realized he had not yet regained the strength or balance he needed to hop up their front steps with his crutches. Defeated, Don sat down on the front steps - and Jennifer wasn't strong enough to help him back up.
They didn't know what to do next, but then a stranger driving by saw them struggling and circled back around. A man named Steve pulled up and asked if he could help, then lifted Don up and helped him into the house and onto the couch. Calling him an "angel," Jennifer was stunned by his random act of kindness.
"I hope he realizes how much his thoughtful act is appreciated. He was a hero today, and we are so grateful that he was willing to stop and take the time to help people he has never met before," she wrote on Facebook.
But Steve Smith's work wasn't done yet. As it turns out, he was a welder, too. He returned to their house the next day - with some extra hands - and built a wheelchair ramp to the Austin's front door.
http://6abc.com/society/man-helps-amputee-up-stairs-then-returns-to-build-ramp/1842786/