Howdy, Stranger!
It looks like you're new here. If you want to get involved, click one of these buttons!
Categories
In this Discussion
CURRENT GLOBAL VISITORS (CLICK GLOBE)
D-FOX: PLEASE CONTACT US IMMEDIATELY
If you can read this message, please contact us immediately at the following email address:
thecomingcrisis@gmail.com
We'd like to communicate.
The Most Popular Threads This Week
Proof of time travel? Bizarre claims nuclear bomb was detonated in India 12,000 years ago
A NUCLEAR bomb blast killed half a million people in India 12,000 years ago, according to shocking claims being made.
Videos uploaded by conspiracy theory and UFO websites suggest there is evidence of the ancient blast happening in a desert region near Jodhpur.
Website ufosightingsdaily.com was the latest to link to one of the videos today.
The "evidence" is alleged to be based on "writings" in ancient texts and an area where high levels of radiation were allegedly detected.
Conspiracy theory website Disclose.tv said: "Hindu texts dating from thousands of years ago seem to suggest that some kind of highly advanced weapon resembling an atomic bomb was set off on the Earth some twelve thousand of years ago."
The theory is based on alleged passages from the Mahabharata and the Ramayana, Sanskrit epics said to be written in around the 8th or 9th century BC, about the Kurukshetra War and battle between Rama and the demon Ravana respectively.
Disclose.tv added: "Could an atomic bomb have gone off on Earth 12,000 years ago? Some of the passages from the Mahabharata suggest a nuclear conflict."


http://www.express.co.uk/news/weird/790147/India-ancient-nuclear-bomb-12000-years-time-travel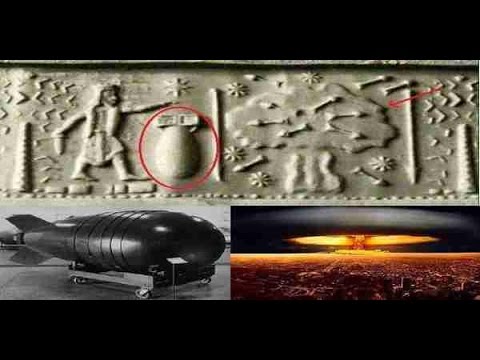 "Before you embark on a Journey of Revenge, Dig Two Graves" Confucius (504 bc)
"The darkest places in hell are reserved for those who maintain their neutrality in times of moral crisis."
"If angry, count to ten. This will give you time to find a weapon." - Will Spencer