While Moscow continues to call for a thorough and independent probe into the Syrian chemical attack, the White House has "declassified" an open-sourced report that pins the blame on Damascus while accusing Moscow of "sowing doubt" over the US narrative.


"We have gone back through and looked at all the evidence we can and it's very clear who planned this attack, who authorized this attack and who conducted this attack itself," Defense Secretary James Mattis said Tuesday adding that he has "no doubt" that Assad was responsible.
On April 4, toxic gas, believed to be sarin, killed dozens of civilians in Khan Shaykhun in the Idlib province of Syria. At the time of the attack, the town was under the control of Tahrir al-Sham, formerly known as the al-Qaeda-affiliated al-Nusra Front.
Witness accounts on social media in the immediate aftermath pinned the blame on an airstrike by Syrian government forces. Reports from the scene also captured civilians foaming at the mouth, with witnesses saying a white smoke spread across the town. The chemical attack was immediately used by the US as a pretext to launch its first unilateral retaliatory strike on a Syrian air base.
Both Moscow and Damascus called for a thorough and independent probe to establish the full picture of the tragedy. Russia believes that Syrian planes bombed a terrorist munitions depot which contained, among other arms, toxic agents that remained under jihadist control following the UN-supervised destruction of Damascus' sarin stockpiles in 2013.
The US, however, continues to insist that it could only be the Syrian air force that used the chemical weapon under the orders of President Bashar Assad, dismissing any alternative scenarios. Mattis refused to share the evidence the Pentagon used to reach its verdict, while the White House noted that it had plenty of social media and open-source material to back its hardcore conclusions.
https://www.rt.com/news/384419-us-russia-damascus-chemical-narratives/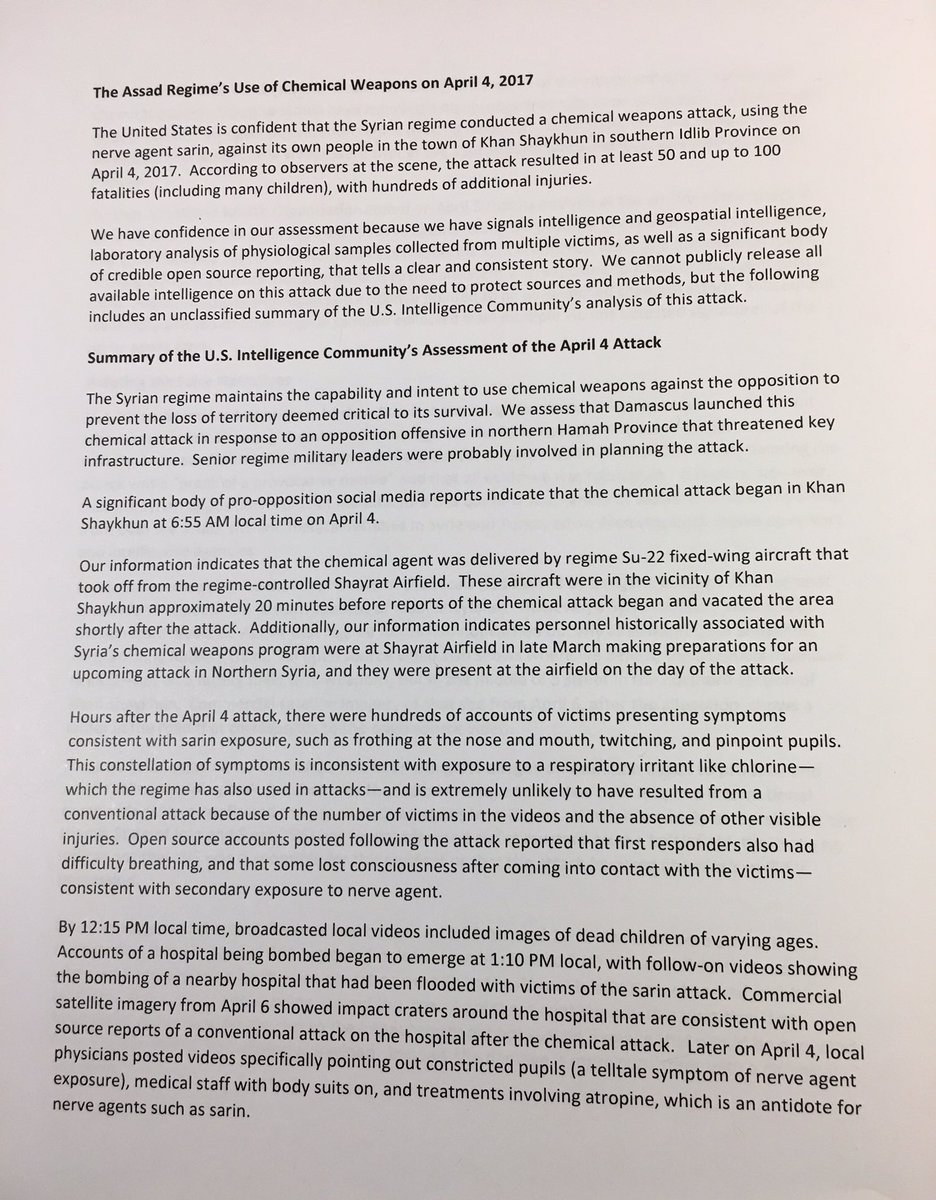 "Before you embark on a Journey of Revenge, Dig Two Graves" Confucius (504 bc)
"The darkest places in hell are reserved for those who maintain their neutrality in times of moral crisis."
"If angry, count to ten. This will give you time to find a weapon." - Will Spencer