Howdy, Stranger!
It looks like you're new here. If you want to get involved, click one of these buttons!
Categories
In this Discussion
CURRENT GLOBAL VISITORS (CLICK GLOBE)
D-FOX: PLEASE CONTACT US IMMEDIATELY
If you can read this message, please contact us immediately at the following email address:
thecomingcrisis@gmail.com
We'd like to communicate.
The Most Popular Threads This Week
WELCOME TO CRISISFORUMS.ORG!
(1) Please swing by our
"HELP CENTER"
to view our forum rules prior to posting or commenting.
(2) Acknowledge that by commenting or posting, you take full responsibility for the content and message of the information you put forth, which does not necessarily reflect the opinions of this website.
(3) If you ever need assistance, simply contact one of the staff or send us an email and we'll be glad to help.
Military buffs discovered five gold bars worth £2m hidden inside an Iraqi tank bought for £30,000
Nick Mead and mechanic Todd Chamberlain gobsmacked to pull out bullion Pair thought they would find guns hidden in diesel container of old tank Mr Mead, who runs Tanks-a-Lot in Northamptonshire, filmed investigation As they pulled out bar after bar he exclaimed 'it's better than having puppies!' Pair handed their loot over to Police but they do not believe they'll get it back
The incredible moment stunned military buffs discovered five gold bars worth £2million hidden inside an Iraqi tank has been captured on camera.
Nick Mead and Todd Chamberlain expected to find rusty guns when they investigated the diesel container of a tank they had just bought for £30,000 on ebay.
Mr Mead, who runs Tanks-a-Lot in Helmdon, Northamptonshire, filmed their investigation and was left gobsmacked when instead of artillery his mechanic pulled out a stash of glistening bullion.
http://www.dailymail.co.uk/news/article-4404096/Military-buffs-discover-five-gold-bars-Iraqi-tank.html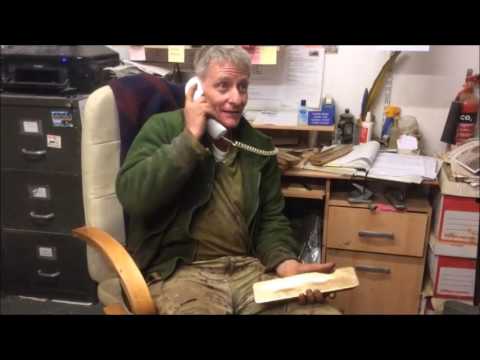 "Before you embark on a Journey of Revenge, Dig Two Graves" Confucius (504 bc)
"The darkest places in hell are reserved for those who maintain their neutrality in times of moral crisis."
"If angry, count to ten. This will give you time to find a weapon." - Will Spencer