Howdy, Stranger!
It looks like you're new here. If you want to get involved, click one of these buttons!
Categories
In this Discussion
CURRENT GLOBAL VISITORS (CLICK GLOBE)
D-FOX: PLEASE CONTACT US IMMEDIATELY
If you can read this message, please contact us immediately at the following email address:
thecomingcrisis@gmail.com
We'd like to communicate.
The Most Popular Threads This Week
WELCOME TO CRISISFORUMS.ORG!
(1) Please swing by our
"HELP CENTER"
to view our forum rules prior to posting or commenting.
(2) Acknowledge that by commenting or posting, you take full responsibility for the content and message of the information you put forth, which does not necessarily reflect the opinions of this website.
(3) If you ever need assistance, simply contact one of the staff or send us an email and we'll be glad to help.
Turkey referendum: Exit poll shows majority back more powers for president
The country votes of 18 constitutional changes which would effectively replace its parliamentary system of government.


Exit polls show the "yes" campaign to grant Turkey President Recep Tayyip Erdogan new powers is ahead, according to reports.
State-run Anadolu news agency said votes in favour of allowing 18 constitutional changes stood at 57% with just over half of ballots counted.
The changes would replace Turkey's parliamentary system of government with a presidential one and could see Mr Erdogan remain in office until at least 2029.
Opinion polls had shown a narrow lead for a "yes" vote before Sunday's ballot.
http://news.sky.com/story/turkey-referendum-exit-poll-shows-majority-back-more-powers-for-president-10839890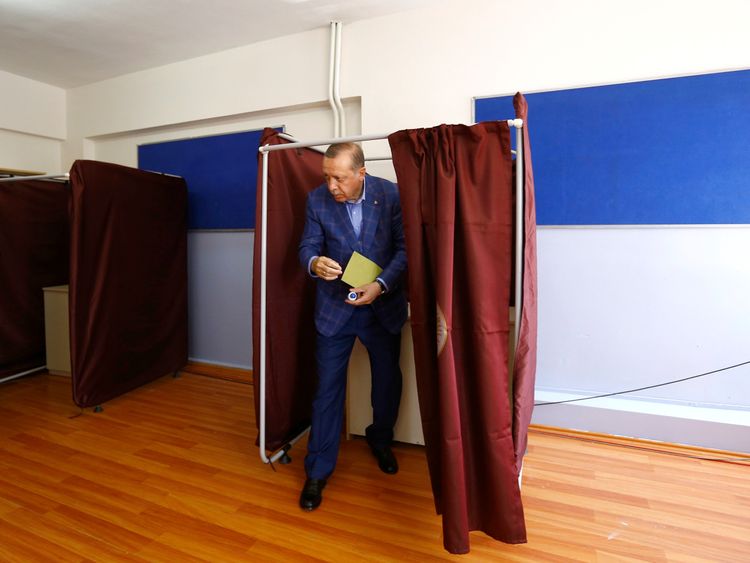 "Before you embark on a Journey of Revenge, Dig Two Graves" Confucius (504 bc)
"The darkest places in hell are reserved for those who maintain their neutrality in times of moral crisis."
"If angry, count to ten. This will give you time to find a weapon." - Will Spencer