Howdy, Stranger!
It looks like you're new here. If you want to get involved, click one of these buttons!
Categories
CURRENT GLOBAL VISITORS (CLICK GLOBE)
D-FOX: PLEASE CONTACT US IMMEDIATELY
If you can read this message, please contact us immediately at the following email address:
thecomingcrisis@gmail.com
We'd like to communicate.
The Most Popular Threads This Week
WELCOME TO CRISISFORUMS.ORG!
(1) Please swing by our
"HELP CENTER"
to view our forum rules prior to posting or commenting.
(2) Acknowledge that by commenting or posting, you take full responsibility for the content and message of the information you put forth, which does not necessarily reflect the opinions of this website.
(3) If you ever need assistance, simply contact one of the staff or send us an email and we'll be glad to help.
20,000 Reindeer Killed by Russian Poachers Apparently After Their Tongues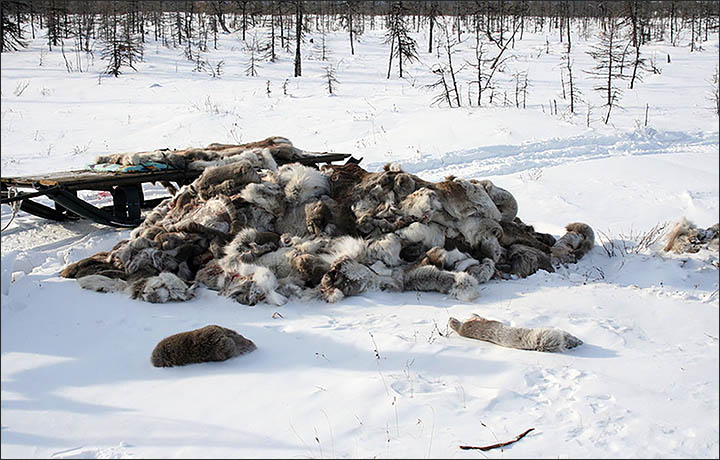 Disturbing images show the scale of slaughter by poachers in the vast Evenkiysky district of Krasnoyarsk region.
Hunting inspectors believe some 20,000 reindeer were shot at 800 locations over a 1,500 kilometre route checked for evidence of poaching.
One killing field is some 6 hectare in size.
Inspectors say the poachers - 'well armed and equipped' - were 'cynical' by shooting without proper targeting.
They found some 300 carcases of deer that had been shot and wounded, and struggled into the forest to die.
Inspectors of the region's State Hunting Control directorate along with police and employees of the Central Siberian Reserve participated in raids with the backing of campaigning group WWF.
They warned of a risk of dangerous disease since many reindeer corpses lie unburied.
Pavel Kochkarev, director of the Central Siberian Reserve, said: 'I have the impression that wild reindeer are shot dead for one particular thing.
'Poachers want reindeer tongues.
http://siberiantimes.com/other/others/news/shocking-new-evidence-of-mass-murder-of-famous-reindeer-population/