Howdy, Stranger!
It looks like you're new here. If you want to get involved, click one of these buttons!
Categories
In this Discussion
CURRENT GLOBAL VISITORS (CLICK GLOBE)
D-FOX: PLEASE CONTACT US IMMEDIATELY
If you can read this message, please contact us immediately at the following email address:
thecomingcrisis@gmail.com
We'd like to communicate.
The Most Popular Threads This Week
5 'aliens' discovered near Nazca lines in Peru - Ufologist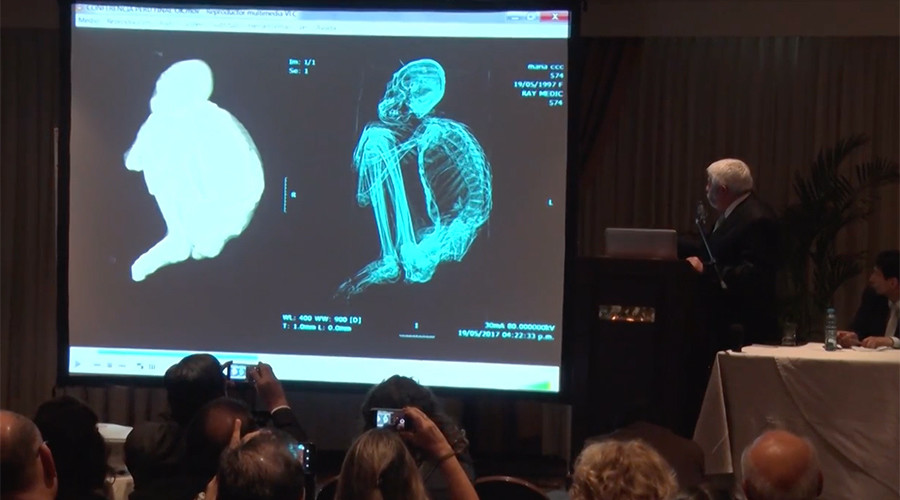 During a press conference entitled "The mummies of Nazca" in Lima, Peru, UFO enthusiasts and journalists discussed the alleged discovery of alien remains near the Nazca lines of Peru.
Well-known Mexican Ufologist and journalist Jaime Maussan claimed on Tuesday that a total of five bodies have been discovered in the past two months, asserting that the remains possess qualities "closer to reptiles than humans."
He explained that the bodies are over 1,700 years old, which happens to coincide with the timeframe in which the Nazca lines (geoglyphs or artworks formed by lines drawn in the earth) are believed to have been created.
Maussan included X-rays of the mummified remains in order to dispute claims made after the initial discovery in June that they were falsified or made of plaster cast.
"Nobody has proven that it is a fraud. We are going to present preliminary evidence that will determine in the eyes of the media, that these are true specimen," he said. "And if there are still doubts that this is real, the obligation of Peruvians and the whole world is to preserve these bodies to find a true answer."
Ephesians 6:12 For we wrestle not against flesh and blood, but against principalities, against powers, against the rulers of the darkness of this world, against spiritual wickedness in high places.