Howdy, Stranger!
It looks like you're new here. If you want to get involved, click one of these buttons!
Categories
CURRENT GLOBAL VISITORS (CLICK GLOBE)
D-FOX: PLEASE CONTACT US IMMEDIATELY
If you can read this message, please contact us immediately at the following email address:
thecomingcrisis@gmail.com
We'd like to communicate.
The Most Popular Threads This Week
Mockery, laughter as U.S. shuts down
For the reigning super power and the largest economy in the world, it's an egg-on-your-face moment.
For the first time in 17 years, the U.S. government shut down as its democratically-elected politicians could not come to an agreement over a spending bill. This stalemate closed non-essential services, sending 800,000 federal workers home without pay as lawmakers bickered about who was to blame. The shutdown could cost the economy about $1 billion a week.
The clash between Republicans and Democrats rages over the 2010 Affordable Care Act, the signature health care law of U.S. President Barack Obama.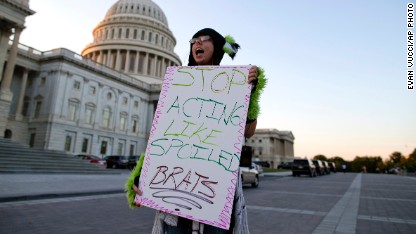 "Before you embark on a Journey of Revenge, Dig Two Graves" Confucius (504 bc)
"The darkest places in hell are reserved for those who maintain their neutrality in times of moral crisis."
"If angry, count to ten. This will give you time to find a weapon." - Will Spencer