Howdy, Stranger!
It looks like you're new here. If you want to get involved, click one of these buttons!
Categories
In this Discussion
CURRENT GLOBAL VISITORS (CLICK GLOBE)
D-FOX: PLEASE CONTACT US IMMEDIATELY
If you can read this message, please contact us immediately at the following email address:
thecomingcrisis@gmail.com
We'd like to communicate.
The Most Popular Threads This Week
North Carolina protesters topple Confederate soldier statue as memorials across U.S. are vandalized
Protesters in Durham, North Carolina toppled a Confederate Soldiers monument outside of an old courthouse building on Monday
Video from the scene shows the statue dedicated in 1924 falling to the ground
In addition, a statue honoring Confederate soldiers who died in the Civil War was removed in Gainesville, Florida on Monday
Protesters covered the bust of Confederate lieutenant general Nathan Bedford Forrest at the Tennessee Capitol on Monday
Plus, three statues in Tampa, Florida; Atlanta, Georgia; and Louisville, Kentucky were all splattered with red paint on Sunday
Vandalism comes after clashes in Charlottesville, Virginia on Saturday over a statue of Confederate hero Robert E. Lee
Protesters in North Carolina toppled a nearly century-old statue of a Confederate soldier on Monday at a rally against racism following the clashes in Charlottesville, Virginia over a statue of Confederate hero Robert E. Lee.
Activists in Durham brought a ladder up to the statue and used a rope to pull down the Confederate Soldiers Monument that was dedicated in 1924.
A diverse crowd of dozens cheered as the statue of a soldier holding a rifle fell to the ground in front of an old courthouse building that now houses local government offices.
Seconds after the monument fell, protesters began kicking the crumpled bronze monument.
Hours after the statue was toppled, North Carolina Gov. Roy Cooper tweeted: 'The racism and deadly violence in Charlottesville is unacceptable but there is a better way to remove these monuments - RC'.
http://www.dailymail.co.uk/news/article-4789478/Several-Confederate-memorials-vandalized-one-removed.html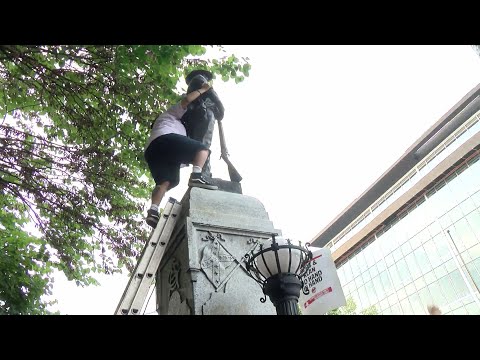 "Before you embark on a Journey of Revenge, Dig Two Graves" Confucius (504 bc)
"The darkest places in hell are reserved for those who maintain their neutrality in times of moral crisis."
"If angry, count to ten. This will give you time to find a weapon." - Will Spencer