Howdy, Stranger!
It looks like you're new here. If you want to get involved, click one of these buttons!
Categories
In this Discussion
CURRENT GLOBAL VISITORS (CLICK GLOBE)
D-FOX: PLEASE CONTACT US IMMEDIATELY
If you can read this message, please contact us immediately at the following email address:
thecomingcrisis@gmail.com
We'd like to communicate.
The Most Popular Threads This Week
Hurricane Maria Latest Updates - Puerto Rico Direct Hit
Hurricane Maria keeps intensifying hours before landfall
By Holly Yan, CNN
Updated 3:49 PM ET, Mon September 18, 2017
Story highlights
In Puerto Rico, which will likely see landfall, 450 shelters are available
The hurricane's first landfall is expected around 8 p.m. on the Leeward Islands
(CNN)Hurricane Maria's brute force doubled in strength as it barreled toward Caribbean islands already devastated by Hurricane Irma.
On Monday afternoon, Maria was hurling winds of 125 mph (200 kilometers per hour) as it closed in on the Caribbean and took aim at Puerto Rico.
That's nearly twice the hurricane's strength from just 24 hours earlier -- and Maria is expected to keep growing before slamming into the Leeward Islands this evening.
As of 2 p.m. ET, Maria was centered about 45 miles (70 kilometers) east-northeast of Martinique and 70 miles east-southeast of Dominica, the National Hurricane Center said. The mammoth storm was moving west-northwest at 10 mph.
Its first landfall is expected around 8 p.m. ET in the northeast Caribbean's Leeward Islands -- specifically Dominica and Martinique.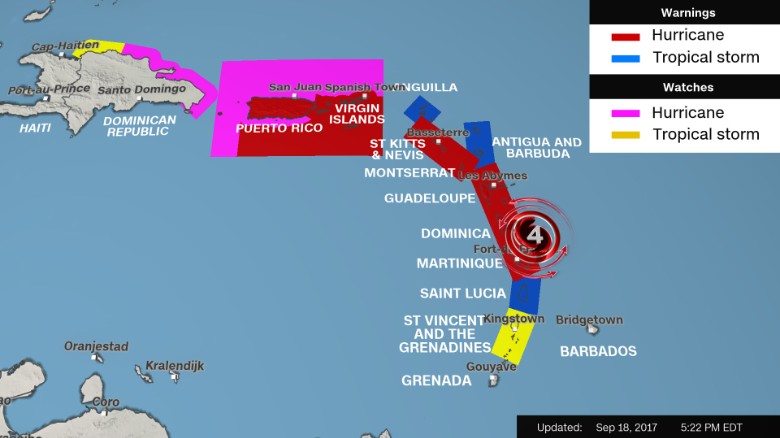 And for the first time in 85 years, Puerto Rico is expected to suffer a direct landfall from a Category 4 hurricane. Puerto Rico's governor has declared a state of emergency ahead of that landfall, which will likely happen Wednesday.
"It's time to wrap up your preparations now, Puerto Rico," CNN meteorologist Chad Myers said.
Bracing for impact
Hours before Maria's expected landfall on Dominica -- and just over week after the island was brushed by Irma -- Prime Minister Roosevelt Skerrit urged residents to take any belongings that could become dangerous projectiles indoors.

http://www.cnn.com/2017/09/18/americas/atlantic-storms-maria-jose-lee/index.html