Howdy, Stranger!
It looks like you're new here. If you want to get involved, click one of these buttons!
Categories
CURRENT GLOBAL VISITORS (CLICK GLOBE)
D-FOX: PLEASE CONTACT US IMMEDIATELY
If you can read this message, please contact us immediately at the following email address:
thecomingcrisis@gmail.com
We'd like to communicate.
The Most Popular Threads This Week
Protesters clash with police in Rome as Pope meets Erdogan
Dozens of demonstrators clashed with police near the Vatican during the Turkish president's visit to Rome, as protesters denounced Recep Tayyip Erdogan's presence amid Ankara's anti-Kurdish military campaign in Syria.
Despite Pope Francis' 24-hour ban on city center demonstrations, around 200 Kurd supporters turned up near Castel Sant'Angelo on the banks of the River Tiber to stage a sit-in protest. The demonstration turned violent after protesters tried to march closer to Vatican, where Erdogan and Francis were meeting. Some pushed through police cordons to have their voices heard in the Vatican, resulting in two arrests.
A pro-Kurdish activist group met resistance from police officers as they attempted to break through the security line. Police officers dressed in riot gear and wielding batons pushed back the protesters who shouted "Shame, shame."
At least one demonstrator was injured in the scuffles, with pictures from the scene showing a man with a bloody forehead injury lying on the ground.
https://www.rt.com/news/417939-erdogan-pope-vatican-protests/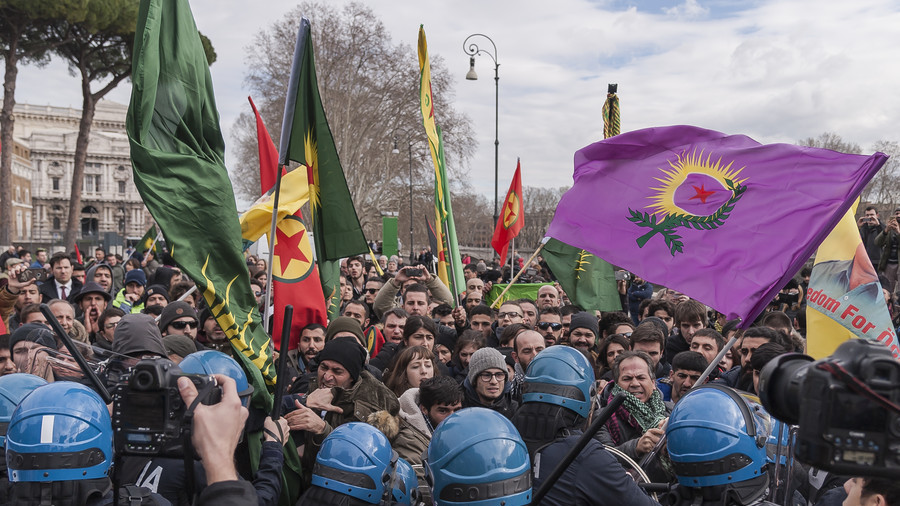 "Before you embark on a Journey of Revenge, Dig Two Graves" Confucius (504 bc)
"The darkest places in hell are reserved for those who maintain their neutrality in times of moral crisis."
"If angry, count to ten. This will give you time to find a weapon." - Will Spencer