Howdy, Stranger!
It looks like you're new here. If you want to get involved, click one of these buttons!
Categories
In this Discussion
CURRENT GLOBAL VISITORS (CLICK GLOBE)
D-FOX: PLEASE CONTACT US IMMEDIATELY
If you can read this message, please contact us immediately at the following email address:
thecomingcrisis@gmail.com
We'd like to communicate.
The Most Popular Threads This Week
Do we still want electric cars after reading this? And let's not blame China - we're the consumer.
Tibet's resource curse
China plans to scale up lithium extraction to meet demand for electric cars and smart phones. But environmental damage to the fragile Tibetan plateau will be irreversible, warns Gabriel Lafitte.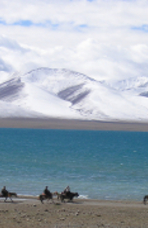 Chinese geologists exploring Tibet in the 1960s criss-crossed the plateau, searching for the mineral wealth they assumed must be abundant, but had not yet discovered. In remote alpine deserts, the geological expeditions came upon lakes which were slowly drying-up due to long-term climate shifts. High on the empty
Chang Tang plain
in western Tibet, they found lakes already dry, their beds a shimmering salt pan.
Testing the various salts, the geologists discovered a scientific curiosity. One lake in particular,
Drangyer Tsaka
(Zabuye), held an extraordinary concentration of lithium salts; measurements of 660 parts per million (ppm) of lithium were recorded. Only in the
Atacama Desert
of the Andes had such levels of lithium been discovered.
For decades, these findings were known only to a handful of geologists. Lithium was a metal in moderate demand, for unglamorous uses in the manufacture of ceramics and industrial greases and, in tiny amounts, as a psychiatric anti-depressant. China satisfied its modest need for lithium by mining a lithium-rich mineral ore at
Yichun
, in eastern China's Jiangxi province. Should that prove insufficient, there were other salt lakes on the Tibetan Plateau, far from lonely
Drangyer Tsaka
.
https://www.chinadialogue.net/article/show/single/en/4696