Howdy, Stranger!
It looks like you're new here. If you want to get involved, click one of these buttons!
Categories
In this Discussion
CURRENT GLOBAL VISITORS (CLICK GLOBE)
D-FOX: PLEASE CONTACT US IMMEDIATELY
If you can read this message, please contact us immediately at the following email address:
thecomingcrisis@gmail.com
We'd like to communicate.
The Most Popular Threads This Week
Dutch riot police break up Turkish protest in Rotterdam
A diplomatic row between Turkey and the Netherlands escalates, after two Turkish ministers are prevented from addressing a rally.


Dutch riot police have broken up a protest by more than 1,000 supporters of Turkish President Tayyip Erdogan, after diplomatic tensions between Turkey and the Netherlands.
Demonstrators had gathered outside the Turkish consulate in Rotterdam to show support for Mr Erdogan after two Turkish ministers were prevented from addressing a rally in the Dutch city ahead of Turkey's referendum next month.
Mr Erdogan is looking to gain support from the large number of Turkish people living in Europe to help clinch victory in the 16 April referendum that could give him sweeping new powers.
But the Dutch authorities view the referendum as a step backwards from democracy and have told Ankara to keep its ministers away.
Police using water cannon, horses and dogs moved in to disperse the crowds after several hours of demonstrations on Saturday evening.
Protesters hit back, throwing rocks at the police, while hundreds of cars jammed the streets blaring their horns.
Tensions tipped over into violence after a day of fast-moving events, triggered when Turkey's family affairs minister Sayan Kaya was stopped from attending the rally by being expelled from the Netherlands.
http://news.sky.com/story/dutch-riot-police-break-up-turkish-protest-in-rotterdam-10799324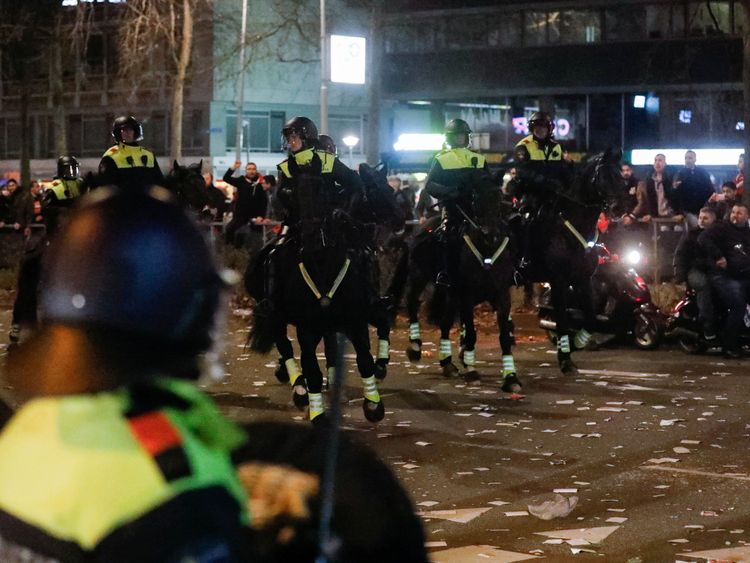 "Before you embark on a Journey of Revenge, Dig Two Graves" Confucius (504 bc)
"The darkest places in hell are reserved for those who maintain their neutrality in times of moral crisis."
"If angry, count to ten. This will give you time to find a weapon." - Will Spencer